Luxury Yoga Retreats in Europe for a True Wellness Experience
The go-to resource for planning your yoga retreats & holidays. Find all you need to know about destinations and take your practice to the next level.
Discover Yoga Retreats now
Have you ever wondered what makes some yoga retreats pricier than others? Especially in Europe, there's an abundance of options, from the very simple retreats to high-end holidays. But what exactly are the factors that determine their price?
While it's true that you'll get a life-changing experience with any kind of holiday you choose, a luxury yoga retreat in Europe offers some extra perks that you probably won't find in other types of vacations.
First of all, it will often take place in a five-star hotel, a fancy resort, a chic villa or a stylish boutique hotel where you'll have access to indulgent ways to pamper yourself. It could be with a spa, sauna, special massage or a delicious gourmet meal with organic products.
Some resorts could also offer jacuzzi, tennis courts, swimming pools, a golf course. That said, 'luxury' can entail many other alternatives to add value to your vacation that extends beyond facilities & amenities. One thing's for sure though, it makes for an unforgettable occasion.
Note: BookYogaRetreats offers a flexible cancellation policy. Should you not be able to travel as scheduled, we'd be happy to help you to alter your booking with the same organizer or with a different organizer.
Where to go for a luxury yoga retreat in Europe?
Currently in Europe and feel like taking some time to improve your yoga skills while being spoilt with exquisite food and wellness treatments? Here are some great suggestions to experience a deluxe yoga focused holidays:
Image credit: Deighton Lodge
What's included:
2-nights (en-suite) accommodation
Yoga nidra & meditation sessions
Hot tub / Jacuzzi available
Free parking
Did you know that the UK is one of the world's top wellness destinations? There are many retreats located across the UK that are geared to restore balance on your body, mind, and soul.
This exquisite 3 day yoga retreat in Yorkshire's countryside is one of our top retreats where you'll be able to experience a peaceful escape from the hustle & bustle of city life.
The rural & tranquil oasis in the vast country side will inspire and motivate you to make positive changes and cultivate a healthier lifestyle. This weekend retreat aims to awaken your senses and bring balance into your life.
During this retreat, you'll be not only be treated to daily mindful Vinyasa yoga sessions, you'll also enjoy nourishing healthy meals, yoga nidra & meditation sessions, as well as some down time to connect with your inner peace once more.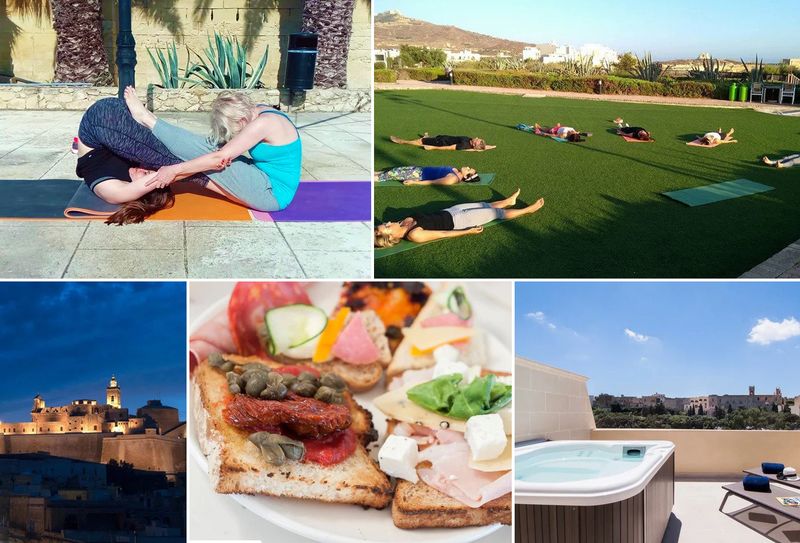 Image credit: Live, Love, Yoga Gozo
What's included:
5-night accommodation
Hot tub / Jacuzzi available
One morning excursion
Rediscover the joy of breathing just by walking around the stunning island of Gozo. Clean your lungs with fresh air, be delighted by its peaceful villages and meet local people who are well-known for their friendliness.
With a combination of Vinyasa flow, Yin Yoga and meditation, this retreat will give you all the tools to improve your life quality in no time. Plus, the yoga sessions take place in the open air at different locations, so get ready to enjoy plenty of Malta's most stunning landscapes.
And if that isn't enough, you´ll have plenty of time for additional activities like cycling, diving, horse-riding, jeep safari, beauty therapies, foot reflexology, Pranic healing, Quad bike tours, Segway tours, Shiatsu massage and more.
You'll stay at the Duke Boutique Hotel, a stylish construction situated right in the heart of Victoria, with views of the ancient Citadel and the Villa Rundle Gardens. At a walking distance from the hotel, you´ll find the Gozo Museum of Archaeology and two well-preserved limestone Neolithic temples.
And if you have a special diet, worry not since your meals can be catered according to your needs. You can be certain that during this retreat you´ll get all the commodities and emotion that you seek.
Looking for a simpler way of traveling? Check this post where you'll 10 yoga retreats in Europe that won't break the bank!
Image credit: Azulfit Yoga & Pilates Retreat​
What's included:
7-night accommodation
Outdoor swimming pool
1 rejuvenating full body massage
Take your yoga holiday to the second largest of the Canary Islands: Fuerteventura. Unplug from your daily routine and get a good dose of relaxation with all that this yoga retreat has to offer. Enjoy a rejuvenating full body massage, savor delicious vegetarian meals and get the unique benefits of combining yoga and meditation with Pilates.
During your stay here, you'll be amazed by Fuerteventura's stunning volcanic scenery, crystal-clear waters and unspoiled nature. The retreat takes place in Villaverde, a farming village in the northern part of the island, just a 10-minute drive away from the beach. You can also explore the walking paths nearby.
To make sure you go home fully rested, additional treatments and therapies are available at an extra cost. Or if you prefer to add a little bit of adrenaline to your vacation, you can choose among several energy-boosting activities, such as kite surfing, horseback riding, mountain biking, paddle boarding, surfing and volcano hikes.
Image credit: Traumhotel Alpina
What's included:
4-night accommodation
30-minute foot massage
Spa, sauna, yoga shala, yoga garden and gym
Imagine a yoga retreat complete with a bathtub, romantic hiking paths, breathtaking mountains, happy birds chirping in the morning and an Ayurvedic chef who has received multiple awards for his outstanding cuisine, cooking especially for you!
If you want a steak, he'll prepare it. Let's say you prefer vegetarian food, done. Or maybe you're on a vegan diet, count on it! Whatever your preferences and dietary requirements are, he'll meet them. Just like having a genius lamp willing to fulfill the desires of your appetite. How cool would that be?
Well, this retreat happens to make all this real.
Right in the middle of the Tyrolean mountains, in the alpine region of Austria, this luxury holiday gives you the opportunity to deepen your yoga practice surrounded by the peace and deep silence that you can get from being among nature. And if you're lucky enough, you might be able to see a wild deer–good thing you'll have a full stomach, eh?
Image credit: Hotel Villa Magdalena
What's included:
3-night accommodation
2 individual yoga Nidra treatments
1 Abhyanga massage
This retreat takes place in a luxury hotel located in a small hill in the center of Krapinske Toplice, just 45 kilometers from Zagreb in the region of Zagorje. It is well known for its beautiful forests, culinary delicacies and endless vineyards.
The itinerary includes 2 individual sessions of yoga Nidra tailored to the constitution of your body; meditation and yoga training to improve your practice; and one Abhyanga massage which consists of a form of massage with Dosha-specific warm herb-infused oil.
There's a gourmet restaurant with panoramic views of the Medvednica mountain, where first-class traditional Croatian food will be at your service. Here, you'll be provided with daily breakfast and five-course dinner. The chefs are willing to prepare your meals according to your wishes and needs; including vegetarian, vegan, gluten-free and macrobiotic food.
In addition, there are many optional activities that you can add to the itinerary to make it more fun, such as visiting wineries, visiting Zagorje's waterpark, walking or biking Zagorje's trails and indulging in Zagorje's traditional cuisine.
Finally, find all the relaxation and luxury you need in the wellness oasis area located on the top floor. It has saunas, a whirlpool, outdoor swimming pool, relax zone and heating seats. Plus, you can choose from a variety of classical, holistic and traditional massages at an extra cost.
Image credit: The Center for Higher Knowledge
What's included:
4-night accommodation
Individual Reiki Healing Session
Outdoor thermal pools, indoor spa and wellbeing center
Bring your wellness experience to the next level at the historic spa hotel Posta Marcucci, in Bagno Vignoni. A medieval village settled in the heart of the Tuscan hills. This place is known for its healing hot springs, extraordinary views, weekly live music, local markets, traditional coffee shops and restaurants where you can find authentic Italian cuisine and good wine.
This unique experience includes thermal water de-stress meditation session, an individual Reiki healing session, personalized afternoon meditation classes, daily yoga lessons, accommodation, unlimited access to outdoor thermal pools, indoor spa and the pampering wellbeing center.
Moreover, you'll have other optional things to do. Just to mention few, there's a tour around Tuscany, organic Brunello wine tasting, regression session and Tantra lecture.
Wondering what the meals are like? It includes daily breakfast buffet plus 4-course dinner. No doubt you'll get the exquisite treatment you deserve on your vacation!
---
Want to experience an indulgent yoga holiday somewhere else? There are plenty of luxury yoga retreats in Asia as well!