Why Go on a Luxury Yoga Retreat in the USA
The go-to resource for planning your yoga retreats & holidays. Find all you need to know about destinations and take your practice to the next level.
Discover Yoga Retreats now
Let's be honest, who doesn't like to get pampered from time to time?
Picture yourself sunbathing by the swimming pool, feeling the breeze of the ocean with an exotic drink in hand, getting ready for a soothing massage after a yoga class on the beach – well, that's all possible on a luxury yoga retreat in the USA.
What to expect out of your luxury yoga holiday?
Why would you opt for a luxury yoga retreat over a simple one? Any yoga retreat is a perfect way to work on your yoga skills, relax and deepen your practice. However, there are a few things that are missing compared to a more luxurious one.
Check out our guide to yoga retreats in the USA and learn more about the influence this country has had in yoga.
True, they might be a bit pricier, but these holidays not only offer proper yoga training but also delicious gourmet foods, exciting getaways, wellness options, spas, massages, and many more alternatives to add value to your holiday.
These are some of the perks you'll find during a luxury holiday:
Accommodation
A luxury yoga holiday will often take place in a five-star hotel, a high-end resort, a chic villa or a stylish boutique hotel. You don't have to worry about bunk beds, camping tents or anything that could jeopardize an absolutely comfortable stay.
All-Inclusive
Many luxurious retreats offer an all-inclusive program in which you can eat and drink as much as you can. If it's not all-inclusive, at the very minimum you'll get delicious breakfast, lunch and dinner included in the price. Do check all that's included before you make a reservation.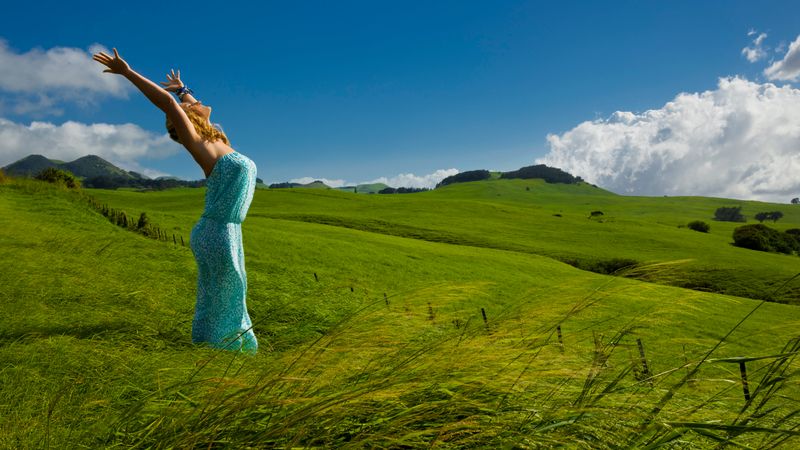 Facilities
Thanks to the deluxe setting of these types of retreats, you'll find different extra wellness options during your stay. There could be a spa where you can spend a day rejuvenating with a nice treatment, get a full-body massage to get rid of all stress, or enter a sauna to sweat all toxins away.
In addition, some resorts could also offer tennis courts, swimming pools, golf course, jacuzzi and other add-ons to make it an unforgettable yoga experience.
Food
Whether you have a vegetarian, vegan, gluten-free or omnivorous diet, one thing is certain: all meals will be delicious. Often times, the kitchen at luxurious hotels offer gourmet cuisine with organic products. Meals could also be catered around Ayurvedic principles to help you embrace the full yoga lifestyle.
Where to go for a luxury yoga retreat?
Need some suggestions to enjoy a holiday like this? Here are three luxury yoga retreats in the USA that will treat you the way you deserve!
Do you feel like there's more to life and you are looking to make a change? Or maybe you've experienced something recently that's leading you to make a shift.
Whatever the catalyst, there's a calling towards a new way of being and this retreat is the perfect choice to achieve exactly that.
You'll be staying in a dreamy direct ocean-front cottage, offering everything you need for a perfect getaway. You may use the kayas and bikes to explore the area (and there'll be plenty of free time to do so).
The retreat will help you achieve an overall healthy glow, calm your thoughts, increase happiness, decrease stress, and discover your life's purpose. It will help you reconnect to your intuition and realize what no longer serves you.
Each day starts with breathwork, followed by yoga and meditation. You'll also enjoy one 90-minute massage and two transformational workshops.
Do you happen to have a long weekend available? Or even decide to escape the daily grind for four days?
If you've been experiencing low energy, tiredness, or mood swings, this program in Florida may just be for you. Boost your body and soul and support your inner healing ability through food, breath, and asana.
You'll be staying in a peaceful place, in a tropical setting, with easy access to cafes, galleries, shopping malls, museums, and beaches.
This holiday is based on an in-depth detox program. You'll join multiple yoga classes, attend a balancing Tai Chi session, meditation, and healing sessions. You'll also learn how to prepare a nutritionally packed detoxing juice fast.
The organizer provides all the necessary ingredients for your juice detox and a special alkaline water system for your entire stay.
Get away from it all on the gorgeous Maine coastline. This luxury yoga retreat is located in Phippsburg, a rural fishing community that's home to Popham Beach State Park, a well-kept Maine secret. The area is blessed with a lovely uncrowded beach and a number of secluded hiking trails. These stunning surroundings are just perfect for finding your calm and focus.
The retreat's mindfulness program is designed to nourish your creativity.
Enjoy eight days of yoga practice, with two classes a day. There will be daily guided meditation sessions, pranayama, and mindful nourishment sessions, as well as culinary exercises, foodie visits, and outdoor activities.
Every day, there will be a series of culinary experiments, ranging from hands-on cooking exercises to Ayurvedic philosophy. Also, each day offers the opportunity to leave the retreat space and enjoy a selection of potential activities, which may include rushing down to Popham Beach for a swim, snowshoeing in the local conservation lands, touring the local farmers' markets and craft fairs, visiting a microbrewery or the nearby antique shops.
All daily meals and snacks are included, featuring local, organic ingredients.
Ready to reset? Harness the vibrations of Sedona, the energy of the moon cycle, the power of essential oils, and the bath for the ultimate self-care to nurture, revive, and rejuvenate your spirit.
This private yoga retreat is ideal for women and couples interested in manifesting the moon and cultivating energy, health, and vitality.
You'll be staying at the Miraposa Suitem a large master bedroom, merging modern with simple comfort. The room is peaceful, featuring a King size bed, walk-in closet, and French doors leading to a deck. The principles of Feng Shui are incorporated throughout the house to create an environment that is energetically aligned promoting harmony, serenity, creativity, and vitality.
The instructor believes in feeling better through the tried and true benefits of good health, a green lifestyle, and daily self-care, which can be as simple as a walk or a bath.
The package includes daily yoga and meditation classes, a supportive lifestyle forum (Ayurveda and Chinese Medicines), manifesting with the moon practice, and a chakra balancing meditation.
You'll have plenty of time to rest, relax, explore Sedona, or go hiking.
Kindly note that this retreat is self-catered. Organic coffee, teas, and alkaline or structured water provided. As for the meals, you shouldn't worry as the retreat is, however, close to restaurants and stores.
Immerse yourself in a transformational rejuvenation retreat in the lushest tropical north shore of Maui, surrounded by waterfalls. Disconnect from the busy life and reconnect with nature and your true nature.
You'll be staying at Black Swan Temple, a simple somewhat rustic accommodation, nested in a tropical garden. There's a common kitchen, office space, spa, and mini-gym to use throughout your stay.
Enjoy daily 2-hour yoga, and sound healing classes, new and full moon ceremonies (depending on the retreat dates), and a lot of free time for sightseeing. You may also choose to join a transformational healing session and a life coaching session.
The yoga class begins with Hatha and /or Kundalini yoga warm-up. Then you'll do Aerial yoga, focusing on supporting your yoga practice and making inversions safe and easy, as well as building confidence. The class completes with floating sound meditation.
During the retreat, you'll enjoy three gourmet meals daily, using organic and locally sourced ingredients. The menu is mainly fusion vegan and gluten-free.
For additional fees, the organizer can organize excursions every afternoon, including visiting beaches, waterfalls, or explore sacred places.
Kindly book your flight to Kahului Airport (OGG). The airport transfer is available for an additional fee.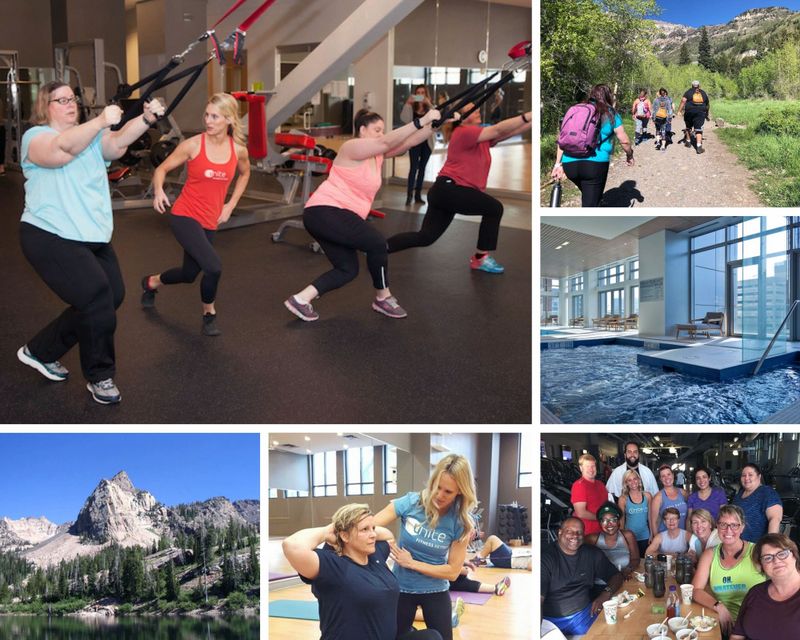 Improve your wellbeing with a personalized health plan on this fitness and yoga holiday.
Start your day with a protein smoothie and morning training to kickstart your metabolism, then enjoy a healthy breakfast, followed by fat-burning exercises and a personal training session. Afterward, time to take a break before joining the water aerobics or suspension training.
Every day after lunch, you'll have the opportunity to join a recreational outing, it can be hiking, biking, or snowshoeing, to mention a few. Yoga sessions take place just before dinner; later on, you can join an evening group walk or take some time for yourself.
The program includes 3 daily fresh meals, healthy snacks, daily yoga and meditation, up to 7 hours of daily guided exercise and personal training, group therapy and mindfulness training, a take-home fitness plan and 4 weeks of Unite-at-Home™, alumni coaching.
---
Would you like to go on a holiday like these but don't have enough time? Join a weekend yoga retreat in the USA!