How I Encouraged Lazy Me to Do Yoga Everyday
The go-to resource for planning your yoga retreats & holidays. Find all you need to know about destinations and take your practice to the next level.
Discover Yoga Retreats now
Thanks to a host of celebrities endorsing the benefits of yoga in recent times, this ancient Indian discipline has been enjoying greater visibility in popular culture than ever before. But when I found even Kaley Cuoco – who plays the irrepressible Penny in the hugely popular sitcom Big Bang Theory – a fan of yoga, I knew I had to check it out.
Yoga is actually a Sanskrit word meaning union, implying that this discipline aided the coming together of mind and body, Man and Nature as well as the individual with the Universal Consciousness. Fascinated, I decided to dig a little deeper and gathered the knowledge that yoga has been traced back to as early as the Indus Saraswati Valley civilization, in the form of images on seals and fossil depicting yogic postures.
Yoga vs Cardio
But how does such an ancient Indian practice compare to modern forms of exercise such as cardio? The primary difference between the two is that while cardio burns more calories for the same period of time and thus results in quicker weight loss, yoga was more beneficial for improving flexibility and core stability. Also, while cardio focuses more on physical performance of exercises, yoga pays attention to breathing techniques and mindfulness as well. Nevertheless, both cardio and yoga in different ways aid in better blood circulation and build up strength.
Life of indulgence
So far so good! Armed with all this information about yoga, I began feeling quite proud of my valuable heritage and yet translating it into action turned out to be more than a little difficult. Fact is, I had got a little careless after marriage. Setting up home with the love of my life and having a family had taken priority above every other concern including my health. Indulging in all the good things of life – delicious food, especially – made for many a fun family outing. And then there were parties, get-togethers, weddings where the lavish spread of exotic cuisine would prove too tempting to resist. While socializing, I would often get to hear of cardio, weights, and aerobics from my friends but I would laugh away their obsession and reach for the nearest place of crispy 'kachori' or melt-in-the-mouth 'moong dal halwa'.
Needless to say, all this indulgence began to show on my waistline. To negate my own guilt, I would often come up with excuses like being too busy with work/home, the weather is either too hot/humid/rainy for me to go out to exercise or not having the right shoes/outfit/music to walk and such myriad cribs. Indeed, the combination of an unhealthy lifestyle and guilt-induced whining began creating a field of diffuse negativity around me. Even then my adoring family would rarely point out my lack of fitness.
Finding Motivation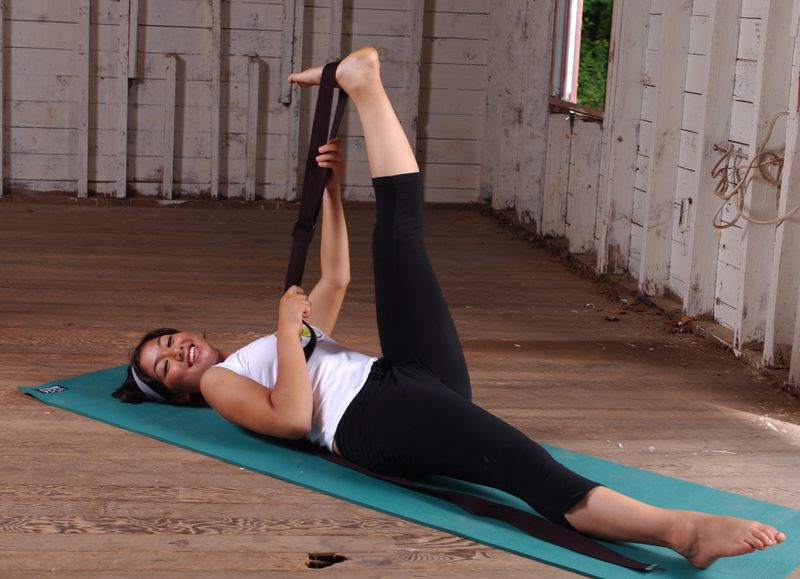 But one day while picking my daughter up from her skating class, we both happened to come across a yoga class for seniors. The sight of more than twenty elderly men and women expertly following their instructor through the most difficult-looking poses stopped me in my tracks. That night I asked some very uncomfortable questions to myself. My inner voice pointed out how my fitness is not only important for my own health but for the well-being of my family also.
Two days later I was standing at the same ground but earlier in the morning to begin class for ladies. The yoga instructor seemed at least ten years younger but my concerns over her ability to understand my predicament soon disappeared as soon as she welcomed me with a smile beaming with warmth and assurance. That morning my bathroom weighing scale had stopped at 75 kgs and standing a mere 5 feet 2 inches, I was keenly aware that I needed every bit of her positivity.
Through Sweat and Tears
Thus began my journey into Yoga through a repertoire of body postures known as asanas, whose purpose varies from exercising the body and mind to the highest forms of meditation. In fact, Patanjali the compiler of Yoga Sutras suggests that asana is "to be seated in a position that is firm, but relaxed" for extended, or timeless periods. However, in contemporary usage, asanas have come to refer mainly to the numerous postures in Yoga.
We started with breathing exercises before moving on to relatively simpler asanas such as the Anantasana or Vishnu's Couch Pose which is a form of Side-Reclining Leg Lift in Yoga. This posture involves the pelvis, hip and leg adductor muscle is known to improves balance and provide stretching of the hamstrings and calves. Then it was time to move on to Adho Mukha asana to build strength throughout the body, particularly the arms, legs, and feet; it is also known to relieve fatigue, improve the immune system, digestion and blood flow to the sinuses, as well as calm the mind.
Staying Committed
Despite my noble intentions, being committed was turning out to be a challenge. My mind began looking for sneaky ways to occupy myself at that hour in the morning even as all that stretching and bending began making my body sore. And yet, egged on by my supportive family as well as the memory of senior participants, I decided not to give up.
Soon, my instructor was showing us Half Moon Pose or Ardha Chandrasana which is a standing and balancing yoga and then the Ardha Matsyendrasana which is known as Half Lord of the Fishes Pose. The asana usually appears as a seated spinal twist with many variations and is one of the twelve basic asanas in many systems of Hatha Yoga. Just when I thought they couldn't get any more difficult, I was learning the Adho Mukha Vrksasana or Downward-facing Tree Pose which is a form of handstand. Its benefits range from strengthening the shoulders, arms, and wrists and stretching the belly to improve the sense of balance and to relax the mind.
One of the most difficult asanas turned out to be Akarna Dhanurasan. Though literally this translates into 'towards the ear bow' Pose, a more functional translation is the "Archer Pose," as the position resembles an archer about to release an arrow. And yet its benefits like the improved flexibility of leg muscles, strengthening of the abdominal muscles and the lower spine made me glad that I had persevered.
A New Way of Life
The Yoga package that I had signed up for was for three months but needless to say, at the end of that period, I decided to continue and learn more. The benefits of Yoga turned out to be multiple and varied:
For starters, it had taught me how to breathe since this is the fundamental skill required to master all other asanas.
With correct breathing techniques came greater mindfulness and awareness of mental and physiological processes which helped me relax more and gain a better perspective. Eventually, these can help with lowering hypertension and curing insomnia.
No less important were the physical benefits of relaxation such as less chronic pain, especially in cases like arthritis, headaches, lower back pain, and carpal tunnel syndrome.
Improved muscle tone and muscle strength were among the most obvious benefits of yoga
Better core stability and balance translated into fewer falls and injuries for a formerly sluggish person like me
Better cardiovascular and blood circulation have long been acknowledged as significant benefits of yoga and I am glad my regular yoga practice protects my body in these ways
Finally, I can feel a clear rise in my vitality and energy levels with regular practice of yoga
Of course, my bathroom scale too now reads a healthier 61 kgs – though Yoga has not peeled my body to size zero, that was never the intention, to begin with. Yoga is all about enhancing the physical and mental health of an individual in a holistic, integrated way – something that I am proud to say I have achieved now.
---
Want to start your own yoga journey in order to enjoy the benefits of this healthy lifestyle? A yoga retreat for beginners is the ideal place to get into the flow!