A Guide to Ayurveda Yoga and the Best Retreats
We're expert yoga travellers and we love helping you. BookYogaRetreats.com is the largest yoga travel website with 6593 unique listings in 251 destinations around the world.
Discover Yoga Retreats now
Whether you're a yogi initiate or a complete layman when it comes to both yoga and Ayurveda, you may be taken aback by the concept of Ayurveda yoga.
Yoga and Ayurveda are both traditional disciplines from the Indian culture but target different wellness dimensions. Ayurveda is a traditional system of medicine, focused on using plants and a specialized diet to improve the health of the mind and body. Yoga is about using movements, meditation and a few life principles for the same purpose.
While both yoga and Ayurveda focus on improving both the mental and the physical aspects of their practitioners, Ayurveda is leaning more towards the physical while yoga leans towards the mental and spiritual. This is true especially of the more authentic yoga forms taught by Eastern practitioners and less true for the Westernized forms of yoga which focus more on movement.
What is the Ayurveda approach?
Ayurveda is a science of folk medicine founded millennia ago. According to historical sources, its roots can be traced on the Indian subcontinent to over 5,000 years ago. The name of this practice itself highlights how wonderfully holistic its approach is: 'ayur' means life and 'veda' means knowledge. Ayurveda, therefore, translates as the knowledge of life, or the science of life, in slightly more modern terms.
Traditionally, Ayurveda has been used especially for crafting herbal remedies and administering folk medicine practices. A healthy diet was also among the teachings developed and offered by Ayurveda, together with the preference for vegetarian options.
There is also a strong emphasis on philosophic principles such as the 5 elements and the human energies that correspond to each of them. Illness or disease is usually viewed as an imbalance between the elements, which can be remedied by encouraging the type of energy that is under-represented, so balance can be restored.
In time, of course, Ayurveda blended with other traditional practices from the subcontinent, especially with yoga. Nowadays, Ayurveda is more about the use of teas, spices, a few recipe ideas for snacks or natural supplements, and the use of essential oils and fragrances. Turmeric and frankincense are two of the most popular Ayurvedic remedies known far and wide.
How is the yoga approach different?
Yoga evolved to address the realm of natural remedies less, but to focus more on self-work towards a healthy body and mind. Yoga does not rely on natural remedies, but on movement (asanas) and meditation instead. While there are lots of different types of yoga being practiced, some very old and some of the newer variety, there are proven benefits to practicing yoga, regardless of the style.
The two main pillars of the practice of yoga are asanas (practicing yoga poses) and meditation (for stilling the mind and teaching the body better breathing techniques). The theory of yoga also teaches philosophical principles on how to lead a good life and how to better yourself. In this regard (life principles and advice), yoga and Ayurveda blend even more tightly together.
How do Ayurveda and yoga mix?
The popularity that yoga gained in the Western world is well-known since many Westerners choose it as their form of preferred exercise. Ayurveda enjoys some popularity as well, especially among people with a penchant for alternative medicine. While yoga is regarded as something you do, Ayurveda is considered a complement to it in regards to dietary supplements, aromatherapy, and teas.
As for how effective these two practices are when mixed, there isn't a lot of research yet to prove or disprove their health claims. Still, there is one ground-breaking study that shows how the combination of yoga and Ayurveda can stave off cardiovascular disease.
The blend of these two traditional disciplines is, of course, not meant to treat diseases, but to preserve your health. It's a like a preventative therapeutic life regime that allows you to be in your best shape for longer.
Also, one of the modern perks of Ayurveda is the fact that it includes massages, especially as part of a specialized retreat. You shouldn't be surprised to see Ayurveda mentioned in some of the world's most luxurious spa centers. All the more reason to indulge in a fantastic yoga and Ayurveda journey away from the world!
The top 5 Ayurveda yoga retreats to indulge in
If you'd like to learn more about how you can combine yoga and Ayurveda in your everyday life, and also indulge in a pampering experience, it's never been easier. A specialized yoga and Ayurveda vacation is just what you need.
While we can facilitate your access to hundreds such havens, here are our favorite 5 picks: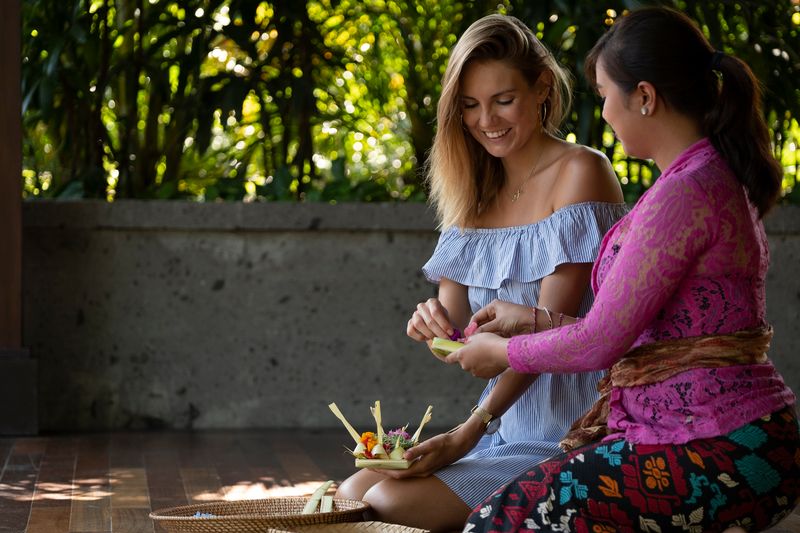 Mindful activities, a light yoga class and a meditation session every day, delicious food and all the pampering you can dream of for your body and mind. During this two-week period, you will enjoy no less than 31 special ayurvedic treatments, as well as 3 cultural excursions in the surroundings. You'll experience the beauty of Balinese culture while also feeling healthier than ever.
Are you looking for a shorter stay, just to relax a bit and dip your feet in all the goodness of Ayurvedic yoga? This 4-day retreat in Kerala is the ideal place to start. Mouthwatering food, the ocean views, and the infinity pool will make for the best 4 vacation days you'll ever spend. You'll also get to practice a bit of yoga in the morning, and explore the surroundings in a tour of the oldest colonial architecture in the country.
Rishikesh is somewhat of a holy land for most dedicated yogis. According to historical investigation, it is the place where yoga first originated, so a retreat in Rishikesh is a must for any yogi's bucket list. With this yoga and Ayurveda vacation, you'll get to explore the two disciplines in the very place where the roots of yoga have been laid. Some of the extra perks of this retreat include crystal therapy, massages, aromatherapy, Reiki and sound healing. Enjoy the rest and nourish your soul!
Craving to have a yoga and Ayurveda experience, but you prefer traveling in Europe? No problem! Spain has a long-standing tradition of welcoming the best yoga instructors in the world.
The yoga retreats you can enjoy in Spain are more than up to par, and this Ayurvedic vacation makes no exception. Especially popular with the ladies, this vacation allows you to get a fully personalized treatment. You will have a Skype meeting with the instructors and therapists before the vacation, so they can prepare the schedule of meals, treatments, and massages according to your preferences and needs.
A yoga and ayurvedic retreat that focuses on improving your diet and on helping you discover and nurture your passion for cooking, this short stay in Kalutara will be delicious in every way.
The eco-friendly retreat combines modern facilities with Ayurvedic principles. As for the surroundings, you should know that the sights are breathtaking and include a spectacular waterfall. You will also get to walk through the plantation and paddy field, observing how vegetables are picked and then cooked for your meals.
---
Want to see more places where you can indulge in combining yoga and Ayurveda? Browse through hundreds of lush options!