Exclusive Yoga Retreats in the UK & Ireland to Pamper Yourself
The go-to resource for planning your yoga retreats & holidays. Find all you need to know about destinations and take your practice to the next level.
Discover Yoga Retreats now
Investing in your self-care is essential to maintaining a healthy mind and body. But what is the best way to do it? Well, a high-end yoga retreat might become your favorite option once you read about all its perks.
An exclusive yoga retreat allows you to pamper yourself with delicious food, private spaces, spa treatments and more. It also gives you high standards of hospitality, access to awesome facilities and many deluxe experiences tailored to your own preferences.
There are many luxury yoga holidays in the UK and Ireland where you can indulge in all these benefits. Want a few recommendations? All the following retreats are perfect to relax your body and mind through the practice of yoga and meditation.
» READ MORE: Why Luxury Retreats Are the Best Way to Pamper Yourself
Note: BookYogaRetreats offers a flexible cancellation policy. Should you not be able to travel as scheduled, we'd be happy to help you alter your booking with the same organizer or with a different organizer.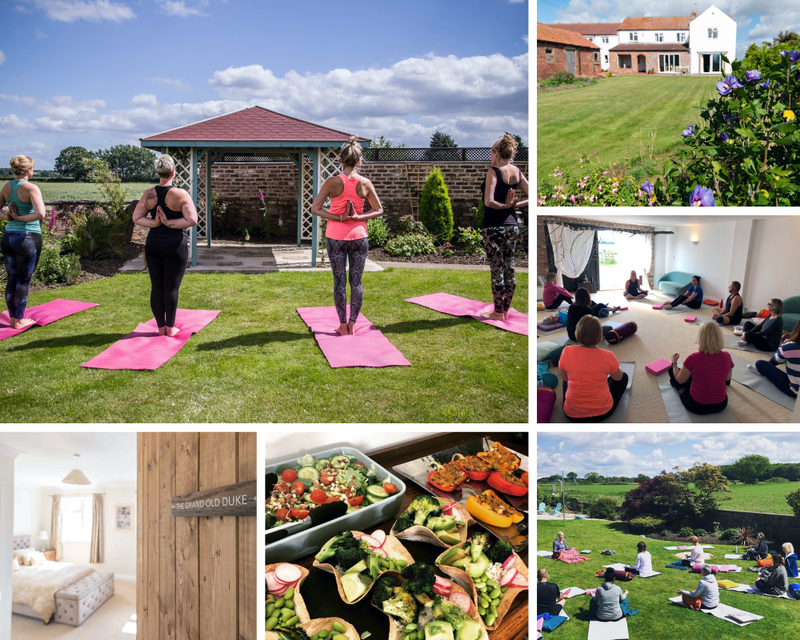 Duration: 3 days
Location: York, UK
All meals included
Feeling overwhelmed by the hustle and bustle of your daily routine? This is the retreat for you! Here, you'll be able to restore and nourish yourself though the practice of yoga and meditation in the beautiful countryside of Yorkshire.
You'll be able to unwind and recharge in a beautiful farmhouse that has been transformed into a luxurious space. Located on three acres of private farmland, there's plenty of space to spend some much-needed alone time to find inner peace.
The program includes 4 yoga workshops, 2 Pranayama and Vinyasa yoga classes, 2 Yoga Nidra and meditation sessions, 2 nights of accommodation, access to lodge facilities and all meals freshly prepared on site.
During your free time you can sit by the large wood-burning fireplace in the comfy living room or go outside and contemplate the beautiful rolling fields. If you want to explore the area, plan a visit to York's medieval shopping street, York Minster or Castle Museum.
If you prefer to engage in activities that will leave you feeling completely relaxed, you have the option of booking a facial or a massage, at an extra cost.
In addition, this yoga retreat meets the clean & safety requirements for the yoga classes, accommodation and food service, so you can disconnect with peace of mind in a safe environment.
Duration: 6 days
Location: Lincolnshire, UK
All meals included
Have you ever dreamed of spending a couple of days in a real castle while practicing your best yoga poses? Then perhaps your dream has come true, as this exclusive 5-star healing retreat takes place at Belvoir Castle, the home of the Duchess of Rutland.
If you're familiar with the Netflix series of The Crown, then you may already know this place as its featured on the show. A nineteenth-century castle with 1,600 acres of stunning views, this truly royal setting features classic opulence, with four-poster beds, gold-gilded portraits, luxurious furnishings, silk wallpaper and an abundance of artwork dating back centuries.
If the accommodation seems unreal, wait until you learn what the program has to offer. It has been designed by the best-selling author, world-renowned clinical hypnotherapist, yoga teacher, empowerment coach, and leading authority in personal transformation, Kate Tyler. You'll be treated to a comprehensive juice detox, plus daily classes of yoga (for all levels), meditation, pranayama, fitness, mindfulness, herbal medicine, Ayurveda and coaching.
This retreat is so special that it has been voted one of the best by The Times, Guardian, Telegraph, London Evening Standard, Best of England Guide and Muddy Stilettos.
All in all, you'll have a complete holistic experience led by the very best instructors in the field of healing, detox, wellness and personal transformation.
» READ MORE: Your Guide to the UK's Best Yoga Destinations
Duration: 8 days
Location: Glastonbury, UK
All meals included
This wellness retreat not only offers you a private location to do your yoga, but also the opportunity to explore the layers within yourself with the personalized guidance of a professional.
It takes place in the Glastonbury Abbey, a wonderful location that will support your journey of self-healing. From the moment you walk through the door, you'll be delighted with the nice ambiance that will make you feel like you're stepping into a sanctuary, a place dedicated to the purification and transmutation of old patterns and blocks.
This pleasant atmosphere will help you reconnect with the purity of your own true nature and practice your asanas in a complete state of mindfulness.
The program includes accommodation, 3 wholesome, nutritious and cleansing plant-based/vegetarian foods per day, plus 2 daily sessions (morning and evening) which can consist of guided meditation, sound healing, Yin Yoga, Restorative Yoga, or dance.
Duration: 4 days
Location: Herefordshire, England
All meals included
This healing yoga retreat takes place in the beautiful English countryside of Herefordshire in a private and renovated luxury barn. Here, you can enjoy an indoor swimming pool, a beautiful garden, a cozy fireplace and many more options to feel as comfortable as possible.
During your stay, you can get involved in a variety of activities that will help you in your process of healing. Some of them are conscious breath-work, sound medicine with crystal alchemy bowls, releasing ceremonies or journaling.
Other therapies offered during the retreat are Reiki, energy healing, coaching and tapping, manifestation circles and group self-healing sessions.
Moreover, the program includes daily yoga and meditation sessions, 3 nights of luxury accommodation and the unique experience of having a private chef cooking all your meals for you!
» READ MORE: Weekend Yoga Breaks in the UK
Duration: 7 days
Location: Galway, Ireland
All meals included
Embark on a journey of self-transformation and wellbeing. Experience ultimate relaxation while nourishing both the body and soul, as you engage in the practice of yoga, meditation, pranayama, breathing and life coaching sessions.
During this private retreat, you'll be staying at a lovely cabin in the west of Ireland, where you can make use of the dining space, a wood burning stove, comfy beds, a desk for all your writing needs and a large space outside.
You'll be served organic fresh home-cooked meals, such as miso soup, Indian khitchri, nourishing seasonal vegetable soup, rice dishes, Indian sweet kheer, chia seed pudding, fruits, dried fruits, raw-food salads and more.
During your free time you can get out and explore nature, participate in a baking and cooking workshop, or take relaxation to the next level at the 5-star spa, steam sauna, infinity pool or relaxation room, at an extra cost.
*Cover image credit: Escape Haven Bali
---
In need of a break? Join a weekend yoga retreat and experience all the benefits of a regular yoga holiday without using your vacation days.