Buti Yoga: Combining Yoga and Dancing in a Rhythmic and Passionate Way
The go-to resource for planning your yoga retreats & holidays. Find all you need to know about destinations and take your practice to the next level.
Discover Yoga Retreats now
You may have heard about Buti yoga; lately, it has been all the buzz. Thanks to social media sharing and, of course, to the celebrity attention it has garnered, this new yoga style is presently among the most popular ones.
Combining bits of rhythmic yoga from various sub-styles (mainly Vinyasa yoga), plyometrics, as well as dancing, Buti yoga is something completely new and considered revolutionary by the women who already practice it.
Based on the enthusiasm of attendees and the reported fitness results they experience, the main media outlets of the world have equated Buti yoga with a women's spiritual empowerment movement.
Are things really that extraordinary when it comes to this new yoga type? Let's explore everything you need to know about Buti yoga together!
Created by a celebrity trainer (the creator of the Buti yoga style is Bizzie Gold), the practice has quickly been picked up by selected yoga studios around the world. Even though there aren't a lot of locations where certified trainers can guide you through Buti yoga, more centers will surely follow the trend soon.
With such a cult following, garnered in so little time, how could yoga studios ignore this style that women have taken to so well?
What exactly is Buti Yoga?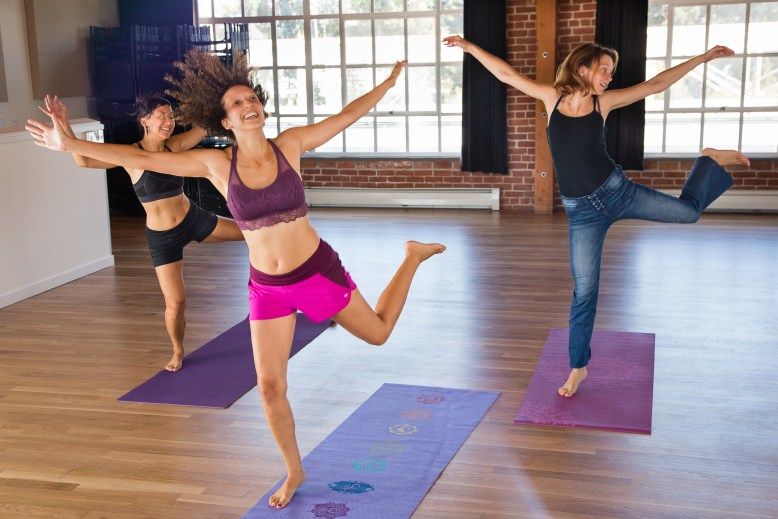 Photo credit: JourneyToMyBestSelf.com
Do you ever burst into a little dance when you are by yourself and happen to hear a song you like? If the answer is yes, then you should know that this kind of energy is at the heart of the Buti yoga movement.
It is all about moving to the beat, with joy, passion and enthusiasm. A session of Buti yoga is a cardio-intensive form of exercise, packing a powerful punch in terms of calorie burn and all-over muscle workout.
Technically, Buti yoga combines moves and principles from plyometrics, tribal dancing, Vinyasa yoga and some Pilates influences as well. If you watch a group of Buti yoga participants during practice, you might be taken aback by their energy and drive, thinking that maybe you are watching a group of professional dancers rehearsing for filming a pop song video.
Sometimes, Buti yoga is even practiced with glow in the dark props, which further contributes to the glam party feeling of the entire experience (see above).
Even if the Buti yoga practice seems challenging when seen from afar, don't worry: one of the core principles of this yoga style is joy and compassion.
There is no pressure to do anything you are not ready for, and any Buti yoga class is open to participants of all levels. Even if you cannot follow what the trainer or the more experienced class-goers are doing, do what you can and it will be enough.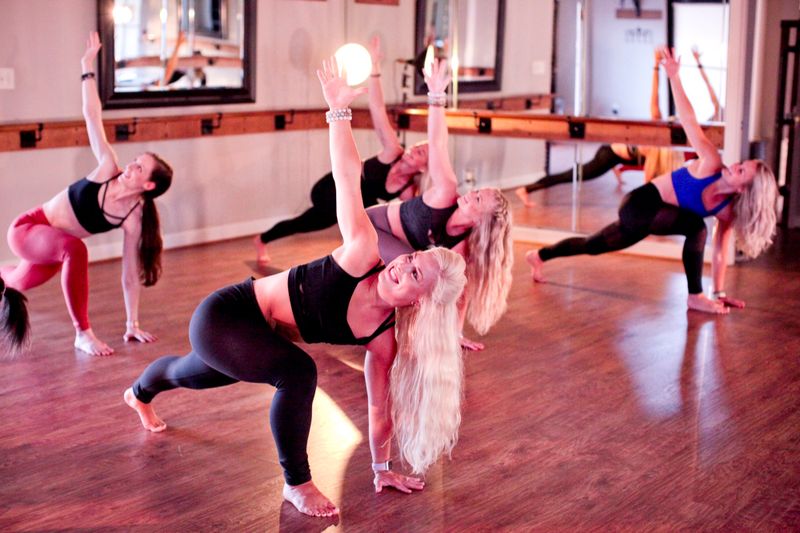 A class of Buti yoga in the Novo Fitness studio. Photo credit: Novo Fitness.
The main idea is to feel the joy of moving and of following the beat. Since the enthusiasm and energy of the other participants are contagious, you can enjoy following along as you can, even if you are slower at first.
So, in a nutshell, Buti yoga has been called 'not your regular guru's yoga', meaning that it's not at all about meditation or lying still, and it's all about the movement, passion and rhythm of dancing. But, at the same time, according to its creator Billie Gold, as well as other Buti yoga trainers across the world, the style still aims to be a spiritual movement as well.
The spiritual side of the Buti yoga practice manifests in the empowerment the style wants to bring into women's lives. Buti yoga is about compassion, acceptance and joy (admitting participants of all levels of fitness into their ranks), and about helping women feel and look their best while getting stronger and fitter (hence the empowerment part). The community part of the practice is also emphasized in the Buti yoga philosophy, which sets out to inspire women to connect and support each other in their quest for health and happiness.
What does Buti stand for?
Photo credit: ForNowJustBreathe.com
Buti is not a made-up word, nor is it an abbreviation or anagram for something, in case you were suspecting it. Actually, Buti is a real Marathi Indian word and it refers to 'the cure to something hidden or kept secret', or, alternatively, to any 'cure that has been kept secret or hidden'. If that doesn't pique your attention, I don't know what will.
In other words, any miraculous insider secret that initiated possess could be rightfully described using the word Buti. Seeing the killer toned bodies that Buti practitioners have, it's easy to understand why the word applies to this style of dancing yoga.
What is Buti Flow?
Photo credit: rhythmix.org.
If you've been following yoga celebrities on Instagram and beyond, you have probably seen the phrase 'Buti flow' pop up more and more often. But what does it mean?
In any Buti yoga session, there is a part focused on the group dancing together in a wonderful explosion of energy and emotion, and another part consisting of exercises to be performed on a yoga mat. You can see a demonstration of such exercises in the video above, courtesy of Total Fitness DVDs.
Depending on how much experience you already have as a yogi, you may notice that the workout doesn't look like a regular asana routine. It does look a bit more intensive, but it's not just the difficulty level or the more challenging moves that differ. Sometimes called the Spiral Structure technique, the movements seem to follow a cursive flight pattern.
What makes the exercising part different from other styles of yoga is the fact that the moves are still infused with a dance-like quality, and seem to flow from one another. This is why a Buti yoga mat routine is called a Buti flow.
What Is Buti Sculpt?
Considering how intensive a Buti yoga workout is and the big cardio punch it delivers, this yoga style has an insane potential of sculpting out bodies. When participants in a Buti yoga class have been at it for a while and can really feel themselves easing in the routine, they will also start noticing how incredibly toned and defined their bodies are starting to be.
Achieving an enviable physical shape thanks to Buti yoga practice is known as having a Buti sculpt.
But the best part about the term is that a workout routine has been carefully designed by trainers in order to maximize your chances of getting that killer body and speeding up the process.
This workout has been dubbed Buti sculpt and yoga trainers are now able to become certified in guiding Buti Sculpt workouts, so it has become a registered trademark. You can see a demo for some of their workout moves in the video above.
What can you expect from a Buti Yoga class?
Photo credit: drbabu.com
Of course, even though DVDs are useful for practicing at home, nothing beats following the guidance of an instructor in the same room with you. This is why yoga classes and going on a yoga retreat will never cease to be popular past time choices, no matter how good the DVDs you can find are.
If you're considering joining a Buti yoga class, this is what you can expect to find there and experience, in broad brush strokes:
There will probably be a large-ish number of participants (around 15-20) because the dancing energy flows better this way.

The more experienced Buti yoga participants will probably be wearing little (mostly booty shorts and a sports bra), because the philosophy of the movement is to encourage women to feel more comfortable in their own bodies and because it's easier to move in such an outfit.

There will be lots of body shaking, hip movement and jumping in tune with the energetic music, which will accompany everything; this is why a good bra is essential and why you will probably feel sore the next day.

Part of the training will still consist of classic yoga poses, which you may recognize from more traditional forms of yoga classes (like the downward dog, the warrior pose, tree pose and so on), but executed in a more alert and energetic way;

The class is full of feel-good vibes and you shouldn't be surprised if you will feel like grinning and giggling both during the class and for some time after it's over, even if you're a beginner and the moves are challenging. Maybe it's the fact that you feel like you are shooting a music video, maybe it's just the contagion of dancing in a group, but something very powerful and full of joy will take your soul over.
What are the benefits of Buti Yoga?
Trainer displaying toned abdomen and core muscles after Buti yoga practice. Photo credit: DeccanChronicle.com
Besides the regular, science-backed benefits of a cardio workout that you should expect from a Buti yoga class, this yoga style claims to come with some unique perks. While there's no scientifically proven evidence yet, since the practice is still new, some of these claims can easily be seen with the naked eye, especially those regarding muscle tone and definition.
Buti yoga trainers swear by the following results and benefits of constant Buti yoga practice:
Better definition and strengthening of core and abdominal muscles (more so than other cardio workouts or other yoga styles);

A good dose of stimulation for your endocrine system, resulting in an overall balanced and improved health for your entire body;

Better pose and more grace and poise with every movement;

Improved body stability and strength, and even some added self-defense prowess;

An overall sculpted and firm physical shape;

Increased self-confidence, stamina and a newfound love of dancing.
Where can you try Buti Yoga?
Photo credit: Yogainfo.co
At first, Buti yoga could only be experienced in the official studio of its creator, celebrity trainer Bizzie Gold, or at her occasional seminars held in West Hollywood and New York locations. But lately, due to its exploding popularity, many trainers are obtaining Buti yoga certifications and hosting classes in their own studios around the world.
The best way to find a Buti yoga class is by using the Buti Yoga app that allows you to enter your city or zip code and locate the closest Buti yoga class. Of course, nothing compares to going on a specialized retreat where you can learn the ropes of rhythmic yoga and dancing from a teacher until you are ready to maintain the effect simply by attending classes now and then.
---
Want to experience the passion of Buti yoga firsthand and learn from the best in a majestic setting? Going on Ashtanga yoga retreat is the start you need on your journey and will lay the foundation for all future Buti practices.