2021 Top 10 Yoga Destinations
The go-to resource for planning your yoga retreats & holidays. Find all you need to know about destinations and take your practice to the next level.
Discover Yoga Retreats now
2020 has been quite a year and there's no doubt that the practice of yoga has helped many around the globe to cope with these uncertain times.
As for our annual ranking of the top destinations for a yoga retreat, the results have been unprecedented, yet very exciting!
For instance, you'll find that India isn't on the top 2 for the very first time since we started sharing our top 10 list back in 2014. The cradle of yoga still made the list, but it dropped all the way to 10th place.
Meanwhile, Germany skyrocketed all the way in the top 5; and France should probably now be considered the country of love and yoga, as it swept away all destinations and is at the very top for the first time ever.
READ MORE: Compare our previous ranking with the top 10 yoga destinations for 2020.
Curious to find out what other countries made it on our list of the top 10 yoga destinations for 2021? Keep reading, choose your favorites, and add them to your bucket list for the upcoming year.
Note: BookYogaRetreats offers a flexible cancellation policy. Should you not be able to travel as scheduled, we'd be happy to help you to alter your booking with the same organizer or with a different organizer.
Disclaimer: At the time of writing, some countries are still subject to travel restrictions. We strongly advise to stay up to date with the latest COVID-19 restrictions and information from official government sources. Our predictions are based on data over the last 12 months.
Image credit: LES TERRASSES DU LAC
La République claiming the top spot on the list might be surprising at first glance, but when you think about it, it totally makes sense. There's plenty more to see and do beyond Paris. In fact, France features some of the most amazing countryside landscapes in the world, which are the perfect scenario to practice some yoga on a soothing retreat.
Just imagine having a yoga session in France's gently rolling hills, the Pyrenees, or the Alps. Can you think of something more relaxing than that?
Plus, you can take a few extra days to explore the marvelous cities and landmarks all throughout its territory. In the end, there's a good reason why it's also the number one destination for international tourism in general.
Moreover, French people have adopted yoga as an everyday holistic and restorative practice, making it an integral part of their culture. This translates into 200+ magnifique yoga retreats, offering plenty of options to take your practice to the next level.
There's no doubt that its natural beauty combined with the growing practice of yoga creates the perfect atmosphere to unwind and recharge in 2021. So, next time you think about France, you may want to add yoga to its already rich cultural tradition.
Most popular places for a yoga retreat in France
READ MORE: Top yoga destinations for a rejuvenating short break in France.
Image credit: RE-TREAT.ME RETREATS
After finishing fifth last year, Portugal managed to climb to second position in 2021. Its chilled surf vibes combined with a general sense of wellbeing, create a laid-back ambiance that's perfect for the practice of yoga.
The country features a unique mix of picturesque streets, extravagant churches, sumptuous palaces and ancient castles, combined with sandy beaches, spectacular landscapes and more than 200 days of sunshine per year. What else do you need to have an amazing yoga holiday?
And it's easy to find a good retreat. The Portuguese have embraced the yoga culture since its arrival in Europe; it's common to see people practicing their asanas on the beach and even the smallest towns have at least one yoga studio. Therefore, it's easy to find at least one or two options for a retreat anywhere in Portugal.
In addition, as it has been open to many foreign travelers, Portugal has been one of the most visited countries in Europe over the past few months (a. n. October, 2020), which makes it an even better fit for yoga travel in 2021.
Most popular places for a yoga retreat in Portugal
READ MORE: Why choose Portugal for your next yoga retreat?
Image credit: Ayahuasca Therapy Amsterdam
Spain is regularly listed among the top 3 yoga destinations in the world and this year makes no exception.
With sublime islands, sophisticated cities and nice weather all year round, Spain is a paradise for yogis that offers around 500 retreats all year round and some of the best affordable retreats in the world.
Furthermore, Spaniards consider yoga to be a well-established form of physical and spiritual exercise. Around 28.9% of them practice or have practiced yoga and more than 90% of the current practitioners say they feel better since they started doing it.
It seems like the perfect place to find great yoga mates and embrace the beauty of its beaches and its astonishing natural landscapes!
Most popular places for a yoga retreat in Spain
READ MORE: The ultimate guide to Spain's best yoga destinations.
Image credit: Altes Zollhaus
For the very first time in the history of our rankings, the country of poets and thinkers makes it to the top 10.
But how did it go from being off the radar all the way to number 4? It surely has something to do with how they've handled the uncertainty in 2020, but it's also the insatiable thirst of the Germans for the great outdoors that has helped yoga to become one of the most popular wellness activities in the country.
Nowadays, you can find numerous skilled teachers, respected schools and high-quality retreats all across the country. And if you're from Germany, you don't need to wait until your next long break to have a rejuvenating yoga experience, as there are plenty of weekend yoga holidays all throughout the year.
Ready to give it a try? Grab a beer, a vegetarian wurst and practice your abwärtshund on a yoga vacation in Germany.
Most popular places for a yoga retreat in Germany
READ MORE: Top 5 weekend yoga retreats in Germany.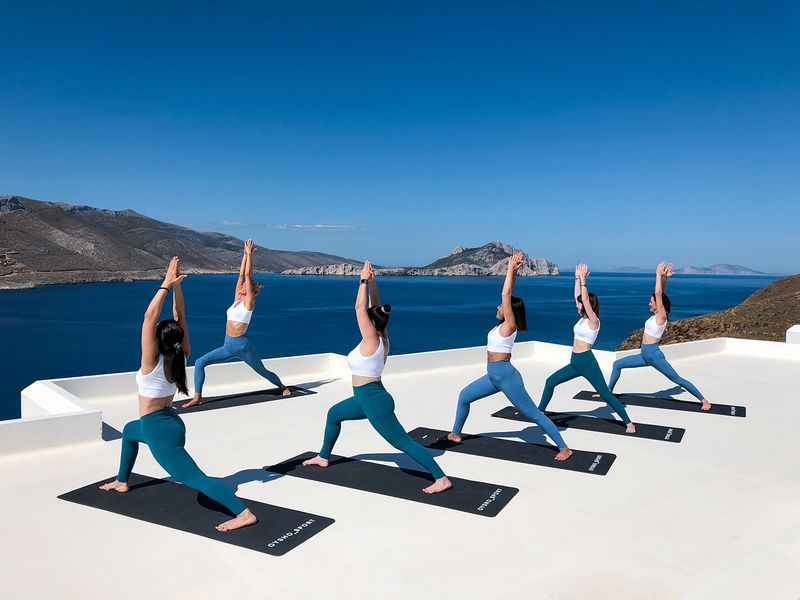 Image credit: Aegialis
Its stunning coastline, exquisite cuisine, vast culture and history, heavenly islands and friendly people, have made Greece a preferred destination for yogis from all over the world.
And you probably didn't think of Greece as an ultimate wellness hub; however, this ancient country has been an important center of spirituality since ancient times. Indeed, there's evidence that ancient Greeks practiced various forms of meditation very similar to the guided mindfulness practices of today.
No wonder this Mediterranean jewel has become such a popular yoga destination in modern days!
Whether you want to discover this mystical country, deepen your practice or just have a relaxing time stretching out, Greece is home to some of the finest yoga retreats you can find. From its mystical islands to the fascinating mainland, there are tons of excellent options for your next yoga adventure.
Most popular places for a yoga retreat in Greece
READ MORE: High-end holidays in Greece for an indulgent yoga vacation.
Image credit: Bliss Body Retreats
Famous for its historical richness, cultural diversity, upscale hotels and shops, rustic neighborhoods, fantastic natural sights, exquisite wines and mouthwatering food, Italy doesn't really need an introduction. We all know you can find beauty in almost every corner of Italy –and that also includes yoga retreats!
Italy's natural landscape also offers the perfect backdrop for a good yoga session. There are hundreds of retreats from Sicily to Tuscany where you can expand your understanding of yoga and still your mind.
If you haven't been to this cheerful land yet, you more than likely have it on your bucket list. Who doesn't dream of a night of Italian food and wine in Via Del Corso, exploring Tuscany's hilly countryside, or drifting along Venice's canal in a gondola? Well, a yoga holiday can be the perfect excuse to cross it off your list.
Or if you're lucky enough to live in this beautiful country, you can plan a weekend getaway on a short yoga break somewhere near home.
Most popular places for a yoga retreat in Italy
READ MORE: Where to find affordable yoga retreats in Italy?
Image credit: Glass House Retreat
What´s the first thing that comes to mind when thinking of the UK? Tea? The Beatles? Soccer? The Queen? Fish n' Chips? […] Yoga?
If you answered yoga, congratulations! You're a true yogi. From the charming landscapes of Kent and the green cliffs of Cornwall to the wild beauty of Scotland, the rugged coastline of Wales and the high mountains in the Lake District, there are tons of yoga holidays in the UK where you can embrace your practice to its fullest.
You'll agree that the unique geography of these lands makes the UK very suitable for mindfulness and meditation. No wonder the UK is on our top 10 destinations for the third year in a row.
Besides, the land of glory and hope surely has a big advantage when it comes to yoga since it was the first European country to interact with Buddhism and Hinduism. Its multiculturalism and ties with India have influenced the quick adoption of yoga and mindfulness.
Most popular places for a yoga retreat in the UK
READ MORE: Weekend yoga breaks in the UK.
Image credit: Bigger Life Adventures
One could argue the USA is responsible for the boom of yoga in the Western world. Hence, it's not surprising to see it on our list every single year since 2014. In fact, yoga's popularity has increased so much in the USA that now this Indian practice feels as American as apple pie.
With around 6,000 studios all over the country where 36 million yogis practice their asanas, there are also plenty of yoga holidays to choose from.
If you're looking for a first-class yoga holiday, you can be sure that you'll find very good options in the USA. If you're looking for a short break, there must be something close to home. Or if you want to become a yoga instructor, there are many teacher training courses as well.
With such beautiful locations across its vast territory, you're bound to have an amazing experience no matter what your preferences are.
Most popular places for a yoga retreat in the United States
READ MORE: Your guide to yoga teacher training in the USA.
Image credit: Indonesia-Zen Resort
Indonesia is the world's largest archipelago that is home to one of the most sought after travel destinations, Bali. In the 'Island of the Gods', you'll find impressive religious sites, gorgeous beaches, stunning volcanoes, picturesque rice fields and sacred waterfalls, lovely handicrafts, incredibly rich culture and, of course, plenty of yoga retreats.
Some could even argue that Bali is the very best place on Earth for a yoga holiday, but this time, due to the complicated traveling conditions over the past months, it has fallen several spots. However, because it's such an astounding place for yoga that would normally rank among the top 3, it just couldn't be left off our 2021 list.
Hopefully, sooner rather than later all borders will reopen, and it'll be possible to travel to Indonesia once again. So, you may want to keep a close eye on some of its 600 yoga retreats that are led by some of the most qualified instructors in the world.
Most popular regions for a yoga retreat in Bali
READ MORE: Why should you do your yoga teacher training in Bali?
Image credit: Rishikesh Yoga Association
India is widely considered one of the most spiritual places on Earth and it's easy to see why. It's home to several of the most sacred sites in the world and it offers more than 1,300 yoga retreats, yoga ashrams and yoga teacher training courses.
It has the ideal temperature and humidity for the practice. And if you're already a seasoned practitioner, you won't find a better place to become a yoga teacher.
However, India was hit hard by the pandemic, which has complicated international travel. That's the only reason why the birthplace of yoga didn't make it to the top of the list.
But, if you dream of going on a yoga retreat to India, don't let the current situation discourage you. India is still among the best places to learn yoga in the world and this might be the best moment to find a good deal for when the time is right to visit again.
Keep an eye on the programs you like the most and you'll be practicing the most authentic yoga in India when you least expect it.
Most popular places for a yoga retreat in India
READ MORE: Kerala vs Goa: Which one to choose for a yoga retreat in India?
(Honorary mention) Thailand
Image credit: Sunset Hill Resort
What is an 11th position doing on a top 10 ranking? You may wonder. Well, Thailand has such a unique laidback feel, as well as a vibrant culture, that we couldn't help but include it on this list.
It should normally rank among the top 5 destinations for a yoga holiday, but it's been gravely affected by the pandemic.
Under 'normal' circumstances, Thailand features some of the most inclusive programs taking place near pristine beaches, majestic Buddhist temples and spectacular Khmer ruins, on unspoiled islands, in quiet villages and other sublime locations!
Most popular places for yoga
READ MORE: North vs south: where should you go for a yoga retreat in Thailand?
Final Thoughts
With so many wonderful destinations around the world to choose from, we hope that our list of top 10 yoga destinations enables you to narrow down your very own list of destinations to consider for your next yoga adventure.
That said, we understand that when it comes to travel, things (e.g: travel restrictions) are still quite unpredictable and are rapidly changing across the globe.
If you're unable to travel to your dream destination but would like to enjoy a wholesome yoga experience in the near future, you need not to wait!
Whether you prefer to relax and rejuvenate with an online yoga retreat or take your skills to a whole new level by joining an online yoga teacher training, we've got you covered.
---
Looking for a yoga focused vacation that won't break the bank? Find 1,300+ budget yoga retreats and holidays worldwide to choose from at BookYogaRetreats.com