2018 Top 10 Yoga Destinations
The go-to resource for planning your yoga retreats & holidays. Find all you need to know about destinations and take your practice to the next level.
Discover Yoga Retreats now
It's that time of the year again when we plunge into our statistics to predict which will be the top yoga destinations in 2018.
But this time we've taken it a bit further and have come up with a list of cities and/or regions (instead of countries in general) that have everything a yogi can ask for to live an unforgettable yoga retreat experience.
Yes, India is still on top. But it is so big that it was only fair to give due credit to the specific regions of the country. Ibiza brings so many yogis to Spain that we thought it could be considered a top yoga location by itself. Bali is still Bali, the yoga heaven par excellence.
Want to know which other places made it on this list? Check it out, choose one and start planning your yoga vacation for 2018.
Rishikesh has the honor of being on top of our very first list that is divided by regions. And honestly, we probably didn't even need to check our data to figure out that Rishikesh, the Yoga Capital of the World, was going to be the most popular place for a yoga retreat or yoga teacher training.
Located in the foothills of the Himalayas in northern India, this holy city is home to a myriad of yoga ashrams, which are normally located far away from big civilizations, where thousands of people retreat to every year in search of deeper spiritual consciousness. Indeed, you might have heard about the most famous pilgrims to visit this sacred land: The Beatles. In 1968, George Harrison led the mythical band to Rishikesh to be trained in Transcendental Meditation. It is said that they composed most of the songs for their White Album here.
The Ganges also goes through Rishikesh, so, if dipping in its sacred waters is on your bucket list, this is your best opportunity to cross it off. And as if the mystic of this city was not enough by itself, it also hosts the International Yoga Festival every year, where you can connect with yogis from all over the globe and celebrate the union that our beloved yoga practice promotes.
India hoards the top 2 on this list with another top-notch yoga destination located in its western coastal region: Goa. While it has a similar authentic yoga feeling like that of Rishikesh, Goa also has a more sophisticated and luxurious side influenced by its Portuguese conquerors. And that's exactly what makes Goa so special: its unique blend of European and Indian cultures.
It might sound like a contradiction, but Goa has absorbed the best of both worlds; obtaining as a result, a laidback, cheerful population that still observes the characteristic Hindu spiritual traditions.
It doesn't matter what you're looking for during your yoga holiday in Goa. Want to relax and just stick to yoga and meditation? Morjim or Agonda beaches are perfect. Want to have a nice dinner or even party at night? Calangute or Baga are good options.
It's not all parties in Ibiza! There's also room for yoga retreats on this popular island in Spain. The White Isle has a very spiritual and calming side that not many people know of due to its wild nightlife. With at least a hundred yoga holidays held in Ibiza all year long, it's safe to say that yogis will find plenty of space on the beautiful beaches to take a good Spanish sunbath.
Spain had been steadily climbing positions on our previous yearly lists –being number 4 on the 2017 best yoga destinations. This year, Ibiza didn't even need Barcelona's architecture or the Canary Islands' pristine beaches to get to the top 3 by itself. Could it be that next year Ibiza keeps its incredible ascend and topples one of India's big guns? We'll see how it does in 2019!
Being such a sought-after destination to do yoga by practitioners from every corner of the world, putting Bali at number 4 almost feels unfair, but the competition is tough in 2018.
Well-regarded for its abundance of yoga centers, a distinguishing Zen atmosphere, an ingrained culture of healthy living, and tons of vegan, vegetarian and raw food options all over the island, Bali is just a yoga paradise. There are over 1200 spas where you can enjoy the soothing experience of a traditional Balinese massage or sign up for one of the 500+ yoga retreats available.
And if you add the beauty of its territory represented everywhere, from the popular Kuta beaches to the iconic Ubud rice fields, there's really nothing to dislike about this magical place (well, maybe it's a bit pricey compared to the rest of Indonesia, but it's still possible to find affordable yoga retreats in Bali).
Oh, and of course, there's the yearly BaliSpirit Festival that is a must for all yogis!
Last but not least, should you be interested in taking a leap to become a yoga instructor, Bali is home to plenty of great teaching training programs.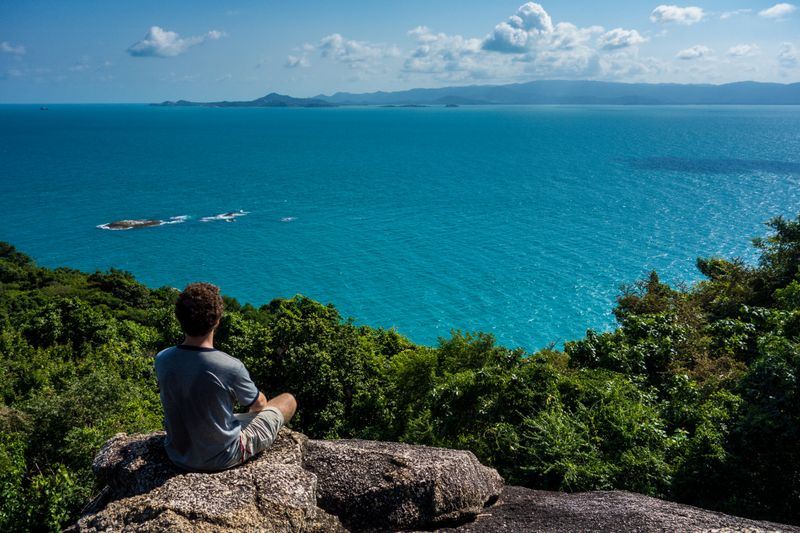 Located in the Gulf of Thailand in the Southeast, Koh Phangan has become one of the most popular travel destinations in general, either for yogis, backpackers, party animals or casual tourists.
The full moon parties might be the most popular events on the island, which are all-night beach parties during every full moon. But don't let this tradition fool you to think that Koh Phangan's only attraction is this mostly-touristic crazy party. While it can be fun to attend one, there are also inspiring calm places where you can immerse yourself in a tranquil sense, surrounded by a spectacular hilly, tropical landscape.
The white-sand beaches are great to do your best asanas, and the temples can become an excellent place for reflection even if you're not religious.
As you might have figured, Koh means island in Thai. Well, this particular Koh –Samui– is the second largest in Thailand after Phuket. Located off the east coast of the Kra Isthmus, just a 45-minute ferry sail from Koh Phangan, Samui is nowadays a cosmopolitan pot that has seen an unbelievable transformation during the past few decades.
Back in 1970, the island didn't even have roads and a 15km journey from one side to the other would take a whole day of trekking. That's when the first backpackers traveling here realized that it was a heavenly place to build some bungalows and little cabins. However, in the 1990s, big boats arrived and the transformation began, more people put this paradise on the map and it soon became one of the most popular destinations in Thailand.
And yes, that includes over 100 yoga retreats in Koh Samui, where you can practice any yoga style, from Ashtanga, Vinyasa or Kundalini, to the more exotic ones like Aerial or Laughter yoga.
The Algarve is a region rich in history, culture, and yoga.
Located in the southernmost territory of Portugal, Algarve is an amazing place that for some reason still enjoys relative obscurity compared to Lisbon and Porto. Its breathtaking cliffs and golden beaches are gorgeous, but there is much more to appreciate about The Algarve than its natural beauty.
It has a lot of history: it was here where the Portuguese sailed to discover the new world in the XV Century. It's soaked in culture and traditions: the architecture is amazing, the cuisine is delicious, and it has some Arabic influence due to the Moors conquest of the Iberian Peninsula; indeed, The Algarve comes from the Arabic al-Gharb which means "the west". And lastly, Algarve is full of yoga retreats that take advantage of such a privileged location to bring a memorable yoga experience to all their guests.
Costa Rica has at least 3 fabulous yoga destinations, that's why we didn't want to leave one out and listed Costa Rica as a whole. Each place is just as memorable as the next!
Nosara is not only Costa Rica's top spot for yoga, but it can be considered Central America's leading yoga hot spot too. With its Pacific jungle landscape, it is a great place to escape, relax and free your mind. That's why it's not surprising that lots of yoga retreats and yoga teacher training courses are based here.
Tamarindo, on the Pacific coast, has some of the most beautiful beaches in the country and is an excellent place for a yoga and surfing retreat in Costa Rica.
Santa Teresa. Located in the southern tip of Costa Rica's westernmost peninsula. Santa Teresa is a fishing village famous for its mouthwatering seafood, great waves for surfing, and the most relaxing yoga retreats.
Aloha! The world-famous Hawaiian expression of love, how could Hawaii and its ever-positive vibe not make this list with such a greeting?
While the general consent is that Aloha means love, affection, gratitude, compassion, sympathy, kindness, and some other emotions, most Hawaiians believe that there is no real English equivalent. Which means that if you don't speak a Polynesian language, you would have to just embrace the emotions that the word transmits without translating it.
Isn't it a beautiful concept that could be applied in our yoga practice too? For this reason, there's no need to explain why Hawaiian yoga retreats are among the very best, you just have to feel it and come to the big island if your heart beats faster when you think about it.
Just like with Costa Rica, we made an exception and listed Greece as a whole. There are so many great options for yoga travel in Greece that it was hard to choose just one specific destination within the country. However, we should point out that Crete and Santorini are among the most popular on our site.
With so much history, a jaw-dropping architecture and possibly the best weather in Europe, Greece is like a dream for all travelers and that includes yogis. There are more than 150 yoga retreats and a vast array of yoga teacher training courses that make good use of these conditions to welcome thousands of yoga practitioners from Europe and the rest of the world.
---
Looking for the top yoga destinations in Europe? Check out our list of the most popular countries to do yoga in the old continent!