The Benefits of Implementing Yoga into Your CrossFit Training
The go-to resource for planning your yoga retreats & holidays. Find all you need to know about destinations and take your practice to the next level.
Discover Yoga Retreats now
Yoga has been described as the perfect "Ying" to complement the high-intensity "Yang" of CrossFit training. The emotional and psychological benefits of yoga are the ideal balance to the physical intensity of a CrossFit.
The endurance and flexibility, which the practice of yoga encourages, are the perfect accompaniment to the strength and power that CrossFit encompasses. Practitioners of each discipline are discovering that by combining them, they can experience increased performance in both. So, without further ado, here are the main benefits you can expect from combining these 2 types of exercise.
Increased Mobility and Flexibility
CrossFit athletes need great flexibility in their joints and muscles. Practicing yoga can gradually increase your range of movement in a gentle, controlled way. A regular daily yoga routine stretches ligaments and lubricates joints to give greater flexibility, and a complete yoga session takes all of your joints through their entire range of movement - squeezing and soaking cartilage with blood, oxygen, and nutrients. Better flexibility and mobility can then reduce your risk of injury and can increase your CrossFit performance, so when you call on your body to do something extreme in your CrossFit training, you reduce the risk of hurting yourself.
Improving your flexibility and mobility can also help prevent the development of conditions such as arthritis and chronic pain. You will find that the increased flexibility you get from practicing yoga will help to take your back squats, overhead squats, squat clean, deep ring dips, and other movements to the next level. Certain yoga poses are particularly good for increasing ankle mobility, which is essential in many CrossFit movements.
Increased Strength and Endurance
Both CrossFit training and yoga can improve your endurance and strength. However, they achieve this in different ways, and that is why practicing both CrossFit and yoga can improve your performance in each discipline. Yoga increases strength using bodyweight, whereas CrossFit incorporates equipment use. The different disciplines involved in CrossFit training use a wide range of muscles and movements.
Preparing your body with stretching exercises before a workout can get your muscles and joints ready and prepared for the hard work ahead. With CrossFit, you can measure your increased strength and endurance by the amount of weight you can lift. With yoga, your increased capabilities will be measured by the difficulty of the asana which you can achieve, and the length of time in which you can hold the posture. For people who are accustomed to showing strength through movement, this can be hard to understand. However, once you begin to practice more yoga, you will discover that incredible strength is needed to remain still at times.
Increased Motivation and Energy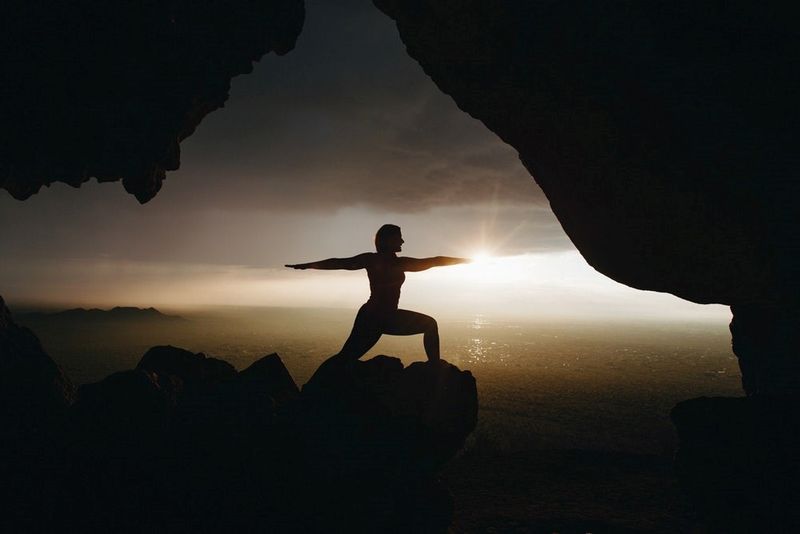 As well as being a physical discipline, yoga can have a big impact on various aspects of life and wellbeing. Practicing yoga can help you to set goals and achieve them. It encourages self-awareness and improved self-control. These attributes can help you to maintain motivation in your CrossFit routines. While CrossFit itself rewards dedication by increased physical well-being, it can sometimes be easy for your motivation to flag.
The enhanced vision of life that yoga can help create can serve to keep you motivated towards your fitness goals when the CrossFit training gets tough. An early morning yoga routine can fill you with energy to make the day ahead productive and positive and is a great way to get your body and mind in motion.
Improved Balance and Breathing
Many yoga balance postures require coordination, strength, stretching, calming, and core engagement. All of these attributes can benefit a CrossFitter. Each heavy lift you do needs core engagement, and good balance is essential for overhead lifting.
Pranayama, or breathing techniques, are an integral part of yoga. All yoga routines are centered on correct breathing, and by adding yoga to your exercise schedule, you can use this knowledge and capacity in your CrossFit training. Mastering balanced breathing can improve your performance in many elements of CrossFit, from conditioning to Olympic lifting.
Increased Relaxation
Yoga can also help you relax more. Sometimes, after an intense CrossFit workout, your adrenaline is pumping and energy flowing to such an extent that it can be hard to slow things down again. A relaxing yoga routine after a workout can help you to wind down.
A yoga routine can also help with the soreness and muscle tightness that can follow a CrossFit workout, aiding you in loosening up and recovering more quickly. A short yoga routine before retiring to bed can ensure a good night's rest - which is essential for body repairs and for you to wake up with enough energy the next morning.
Improved Metabolic Rate
Many twists, bridges, and other asanas practiced in yoga can increase your metabolism, especially those used in Vinyasa yoga. This can augment your energy, burn calories faster, and increase the absorption of minerals and vitamins into the body. All these things ensure that your body is functioning at its peak, and so will also improve your performance in everything you do, including your CrossFit training.
Increased Concentration
Practicing yoga can increase your concentration. You will find that you are able to ignore other distracting influences and concentrate solely on what you are doing. This can be a big help during CrossFit training, especially in weightlifting, where increased concentration can really boost your performance.
Sometimes you can lose concentration midway through a workout, but yoga can help you to channel your energy and focus your attention entirely on the exercise you are performing. Yoga also makes you more aware of your entire body and on the precise details of every movement.
Improved Posture
Yoga can improve your posture, which in turn translates into a healthier body that is up to all the demanding CrossFit training elements, like high-intensity interval training, powerlifting and Olympic weightlifting, strongman, plyometrics, calisthenics, gymnastics and the girevoy sport (also known as kettlebell lifting). Many yoga poses are in fact very similar to the movements in CrossFit. The warrior's poses are much like lunges without the weights, and chair poses are very much like air squats.
As I said, many CrossFitters are discovering the benefits of implementing yoga into their everyday training. Why not try it the other way around as well? You may be pleasantly surprised by the results!
---
Looking for a high-intensity training to spice up your yoga routine? Why not take it up a notch with an AcroYoga retreat? The poses you'll do will be both challenging for your body and spectacular for your travel pics!