The Benefits of Mixing Yoga with Some Boxing Moves
The go-to resource for planning your yoga retreats & holidays. Find all you need to know about destinations and take your practice to the next level.
Discover Yoga Retreats now
The benefits of mixing yoga with some boxing moves are so many that this method is considered to be one of the most effective exercises of today.
If you're searching for a new way of exercising, you can give this technique a try. It will enhance the physical benefits you reap from your yoga practice and provide some fun variation to your routine.
Here are the advantages of mixing yoga with boxing moves:
Improves Stamina
If you add boxing moves to yoga, you'll be able to practice controlled breathing at a greater intensity and in a newer environment. Merging boxing moves will increase your stamina because while yoga teaches you how to tune your breathing through poses, boxing will actually keep you pumped up by adding more poses and movements into your regular yoga routine.
While yoga alone can help you practice endurance, boxing is another level of stamina training. Hence, you'll have a much more intense workout session. Combine them both and you'll get the best of both worlds.
Enhances Flexibility
Because a huge chunk of yoga is made up of stretching, your muscles are more likely to loosen. One good way of practicing this acquired flexibility is to add boxing moves. When you combine both, you'll become more fluid in boxing, and you'll get to gain new stretching tactics that you don't get in yoga alone.
Although boxing tends to tighten the muscles, you can actually just pick less powerful boxing moves that do not make your muscle fibers bulky. In this way, you can perform well in both exercises or all at once.
Reinforces Balance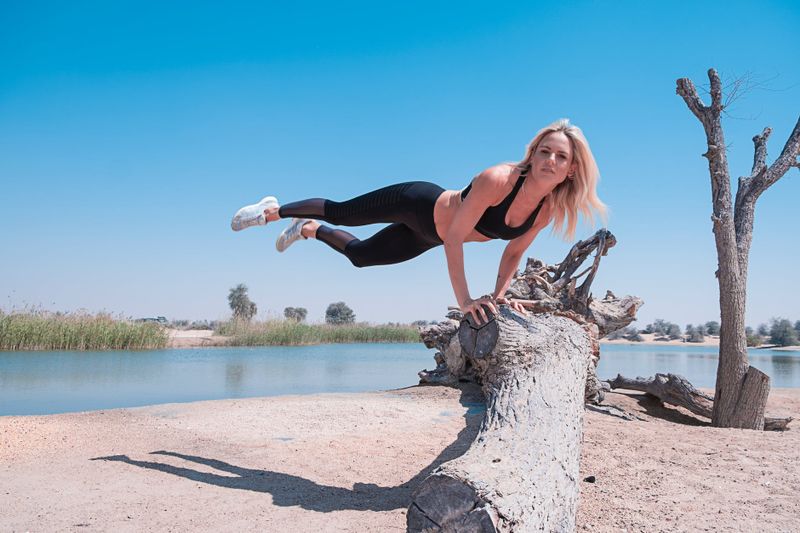 If you add boxing to your yoga routine, you'll have a better chance of reinforcing your balance.
Though stationary, yoga, with a few boxing moves to go, can make you sturdier, so the next time you join a regular yoga session, you're likely to keep your poise and position for a longer time.
Boxing can even help you practice ways of maneuvering and maintaining your balance when you happen to lose control of your pose, so if this happens, you'll you able to adapt quickly and return to your original position.
Promotes a Faster Reaction Time
Boxing will let you learn how to dodge an attack or throw power punches, so you'll have a fast reaction time to successfully escape or hit a target. If you apply boxing in yoga, you'll also have a higher chance of reacting quickly every time you lose your balance.
Reaction time is an essential part of yoga because it does not only help you react quickly, but it also helps you develop your presence of mind. In yoga, you will not only use your body but also your mind, so boxing is an excellent way when you want to practice mindfulness.
Yoga Techniques with Boxing Moves
These are some of the benefits when you merge boxing moves with yoga. If you would love to give this a go, here are some simple yoga techniques with boxing moves and their corresponding benefits to the body:
Boxer's Lunge II
If you want to practice upper and lower body coordination, this pose is one of the easiest to follow. Here, you're going to do boxing moves by keeping two steady fists in front of you while stretching your hips and hamstrings below as you lunge at 90 degrees with your back leg straight. Aside from practicing coordination, you can test your balancing ability, too.
Lunging Arm Circle
Just like the boxer's lunge, you're also practicing both the upper and lower parts of the body with this technique. Find your balance once you've established a 90-degree lunge, inhale deeply, and then raise both of your hands upwards and make a circular motion. While doing so, slightly look up so as to stretch your spine as well.
As you release, exhale and then clench your hands and make a traditional boxer's guard pose by keeping your elbows at a 90-degree angle. Then, raise them up just like when you're trying to protect your jaws and ribcage like how you do in boxing. Doing this will release neck and shoulder tension.
Knuckle Plank
Combine boxing with yoga by making a knuckle plank. Choose how high or low your plank is, and support your body by keeping both of your feet and knuckles steady on the ground. Make sure that you expose your thumb outside the knuckles to avoid losing your grip. Keep your legs straight and your feet at hip-width apart.
Knuckle planks are great when you want to build your overall body strength, especially your upper body. Plus, you can stabilize your wrists and make them stronger in the long run – something that you can get when adding boxing to your yoga.
Upward-Facing Dog Pose
Place your hands under your shoulders and push your body up while facing upwards until you make your body into a curve or letter C. Keep your elbows well tucked and straight and your chest open to maximize this pose.
The upward-facing dog pose is an effective move when you want a stronger abdomen, hips, and spinal area. In addition, you can also toughen the supporting parts of your body such as your arms, legs, hips, and wrists with this pose.
Wide-Stance Forward Bend
Clasp your hands and press your palms together at your lower back. Loosen your chest and shoulder muscles and begin to bend downwards. Bring all of your weight on your toes and raise your clasped hands upwards as you keep a steady breathing pattern.
This position can further develop your flexibility around the shoulder and chest area. Aside from this, it also allows your body to enhance mindfulness when shifting weight, so you're likely to keep your balance. Plus, if you have a rigid posture in your lower back area, this pose can stabilize your tight muscles around your hamstrings and the hip region.
Conclusion
Although the benefits of mixing yoga with some boxing moves are various, it will still boil down to your preference. So, give this technique a try and see if it works for you or not. However, if you'd love a mellow workout routine like yoga but want to spice it up a bit with new poses, then this relieving exercise is highly recommended for you.
---
Looking for an intense workout combining yoga moves and athletic training? Sign up for a fitness and yoga retreat and you'll get started on your journey to top shape!