Affordable Yoga Retreats in Italy
The go-to resource for planning your yoga retreats & holidays. Find all you need to know about destinations and take your practice to the next level.
Discover Yoga Retreats now
A stretch of land poking into the Mediterranean Sea, this boot-shaped country has always fascinated travelers.
From its rich historical and cultural heritage to the scrumptious cuisine, beautiful beaches, and diverse landscape, Italy is home to some of the best yoga retreats in Europe.
The fifth most visited country in the world, Bella Italia has hopped on the yoga wagon quite recently as it became more and more a tourist heaven. Since many visitors practice yoga and are looking for some quality soul-searching experiences, yoga retreats in Italy quickly started to spring in various gorgeous places. The best part is that you don't even have to break the bank on a holiday here, as there are plenty of affordable yoga retreats in Italy to attend throughout the year.
And while you daydream at that Neapolitan pizza and Vespa ride on the cobblestone roads, let's take a look at five yoga retreats in Italy that are a bargain.
Note: BookYogaRetreats offers a flexible cancellation policy. Should you not be able to travel as scheduled, we'd be happy to help you alter your booking with the same organizer or with a different organizer.
Cost per day: from €53
Availability: all year round
Duration: 7 Days / 6 Nights
Location: Forcella, Lazio
Instruction language: English, German & Italian
Instruction level: beginner
Join a lovely yoga holiday and stay in a countryside guesthouse, enjoy home-cooked vegetarian dinners, and outdoor activities. There are two daily yoga classes consisting of classical Hatha yoga, asana practice, and Sun Salutations.
You'll be staying at the foot of the mountains of the Abruzzo National Park, in one of the most beautiful areas in Italy. There are a variety of hiking trails, as well as interesting ruins to check out.
In your free time, you can also take an Italian cooking class or learn Italian. You may go on short or long hikes, visiting an organic farm, take a wine tour, or visit the town of Sora.
The closest airport is Rome's Ciampino–G. B. Pastine International Airport (CIA) but you may also fly into Naples International Airport (NAP). While the transfer is not provided, you may take either a train or a bus from either city. Make sure to ask the organizer for detailed information on how to get to the retreat.
Cost per day: from €52
Availability: Feburary – November 2021
Duration: 4 Days / 3 Nights
Location: Abruzzi National Park
Instruction language: English
Instruction level: all levels
Join a unique farm life yoga holiday in the beautiful Italian countryside, in the small village of Pescosolido, at the foot of the Abruzzi National Park. Established in 1923, the park protects the nature and wildlife in the heart of the central Apennines. It is home to 25 towns and offers the perfect opportunity to spend time in close contact with nature.
During your stay at the farm, you can relax in the peaceful tranquility, eat fresh fruits straight from the trees, enjoy homemade Italian dishes, immerse in the local culture, and explore the nearby forest.
The program includes three yoga classes, taking place along the creek in the woods. A horse-riding excursion is included but you can also participate in a wide range of affordable activities such as cheese-making, guided hikes, paragliding, Italian cooking classes, wine tours, and Italian language classes.
Four vegetarian breakfasts and dinners are included. Kindly specify any dietary needs in advance. You are welcome to pick and eat from the abundance of fresh fruit available on the farm.
Cost per day: from €64
Availability: March – October 2021
Duration: 4 Days / 3 Nights
Location: Sicily, Ragusa
Instruction language: English
Instruction level: all levels
What better way to unwind & relax than a holiday filled with adventure combining yoga and water sports?
This amazing yoga retreat takes place in the small village of Santa Maria del Focallo, in southern Sicily. The largest island in the Mediterranean Sea, Sicily is one of the five Italian autonomous regions. Being blessed with a typical Mediterranean climate, the winters are mild and wet, while the summers are hot and dry. This makes Sicily an island of warm winters.
Its climate, scenery, cuisine, and history attract visitors from all over the world. Mount Etna, the cities of Palermo, Catania, and Ragusa, as well as the old town of Taormina, will leave you breathless.
During this yoga retreat, you are invited to practice different water sports, such as kitesurfing, surfing, stand-up paddling (SUP), and SUP Yoga. There will be daily morning and evening yoga sessions.
Kindly note that the water sports you can practice depend on the season: kitesurfing (spring & autumn), SUP (summer), and surfing (April & October). Also, the SUP Yoga class only takes place during the summer.
Only breakfast is included in the package and caters to a variety of dietary requirements (including vegetarian, vegan, organic, and gluten-free).
During your free time, you can visit historical sites, try various water sports, go on bike rides, take surfing lessons, or various guided tours.
» Read more about other yoga destinations in Italy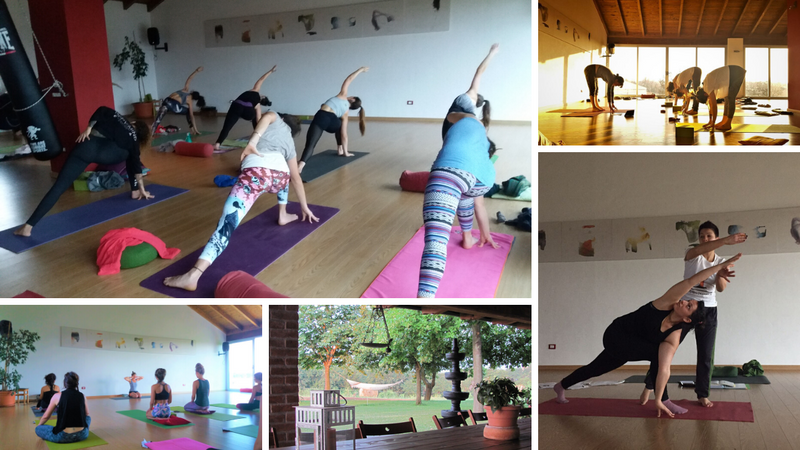 Cost per day: from €53
Availability: November – December 2020
Duration: 4 Days / 3 Nights
Location: Piedmont
Instruction language: English
Instruction level: all levels
Combine hikes, delicious Italian cuisine, and excellent yoga practice during a yoga retreat in Piedmont. Located in northwest Italy, it borders Liguria, Lombardy, and Emilia-Romana. It also borders Switzerland and France. The capital of Piedmont is Turin, an important business and cultural center.
The retreat takes place at Farmhouse Bellaria, in quite a hilly area of the countryside between Alessandria and Acqui Terme.
The holiday begins with an evening yoga class on your first day and ends with lunch on the last day. There will be two yoga classes per day, each lasting two hours.
If you feel like being pampered, there is a spa onsite, offering a variety of relaxing and energizing treatments. During the retreat, you have full use of the swimming pool.
All meals are included, and they are organic, catering for vegetarian and vegan diet requirements. Do let the organizer know of any additional requirements. Kindly note that espresso coffee, soft and alcoholic drinks are not included in the meal plans.
Cost per day: from €81
Availability: April – December 2021
Duration: 10 Days / 9 Nights
Location: Frontino, Le Marche
Instruction language: English; the organizer also speaks Italian
Instruction level: all levels
Celebrate the arrival of summer with a yoga retreat in nature. Enjoy yoga, meditation, music, delicious Italian cuisine, long walks, hiking in the mountains, and more.
Suitable for practitioners of all levels, this retreat is perfect for regaining your vital energy.
Your day starts at 7:30 a.m. with an Ashtanga class. Breakfast is served at 9 a.m. During the late morning, you'll enjoy walks or other activities. Lunch is served at 1 p.m. Dinner is served at 7 p.m.
Two yoga classes per day (except on Sunday) are included in the package, as well as 4 meditation sessions per week.
The retreat takes place at the Monastery of San Girolamo, which is a Renaissance monument dating back to 1503. Several types of rooms are available for the guests. There's a lush garden, as well as comfortable gazebos for practicing yoga.
The package includes all meals, and they are vegetarian-friendly. Should you have other dietary requirements, kindly let the organizer know in advance.
You'll be in Frontino, which is located within the Natural Park of Sasso Simone and Simoncello. San Marino Republic is within an hour's drive, while Florence is about 3 hours by train.
During your free time, you can take part in guided mountain biking or horseback excursions, private cooking classes, painting courses, or Tai Chi.
The closest airport is Federico Fellini International Airport (RMI). You may also fly into Bologna Guglielmo Marconi Airport (BLQ) or Ancona Falconara Airport (AOI). Should you never transfer services, kindly reach out to the organizer for details.
---
Not planning to go on a yoga retreat in Italy? No problem! There are plenty of budget-friendly yoga retreats in Europe to choose from!