Affordable Yoga Retreats in India for Small Budgets
The go-to resource for planning your yoga retreats & holidays. Find all you need to know about destinations and take your practice to the next level.
Discover Yoga Retreats now
Are you dying to live a true yoga experience in the place where it all started but you've been putting it off because of your budget? We've got good news for you then, as there are tons of options in India, where you don't have to break the bank!
From the beautiful beaches of Goa to the holy town of Rishikesh, India is the place par excellence to learn and practice yoga. But it's also the place with the highest amount of affordable yoga retreats worldwide.
Most yoga retreats in India are unlike any other place. Here you'll get to stay in authentic ashrams or humble accommodations either in the city or in the countryside. But you shouldn't see this as something negative; sure, you might not have the most luxurious of settings, but in these austere conditions, you'll find it easier to avoid distractions and plunge into your most spiritual version.
That said, you'll be surprised by how much you can get with a few dollars per night. So, forget about that piggy bank and book one of these yoga retreats with a cost per night of 22 USD or less!
Note: BookYogaRetreats offers a flexible cancellation policy. Should you not be able to travel as scheduled, we'd be happy to help you to alter your booking with the same organizer or with a different organizer.
Image credit: The Yoga Cave initiative
Cost per day: from US$22
Duration: 4 Days
Location: Agonda, Goa
Located on the slopes of a hillside facing paddy fields, a nice river and lush green vegetation full of fruit trees, this yoga and meditation holiday is perfect to unwind from the hustle and bustle of life.
It doesn't matter your skill level since this yoga retreat is open to people from all abilities. With great yogic vibes and an authentic yoga atmosphere, you'll learn various styles of yoga, alignment and proper technique.
Want to hear more good news? Agonda Beach is just a two-minute drive by bike and a 10-minute walk from the ashram. So, you'll be close to the beach, yet not affected by the beachside crowds and activities.
During your time here, you'll enjoy three delicious vegetarian meals, including refreshments and tea. Plus, daily yoga classes, daily yoga philosophy classes and 3 nights of accommodation.
Optional activities, such as Ayurvedic massage, biking, hiking, jungle safari and emotional mindfulness sessions are available at an extra cost. And, since this is a holistic retreat, you'll also find all types of spa treatments to suit all budgets.
To know more about Goa, read Kerala vs Goa: which one to choose for a yoga retreat in India?
Image credit: Rishikesh Nath Yogshala​
Cost per day: from US$21
Duration: 7 Days
Location: Rishikesh
This yoga holiday is the ideal way to relax and improve your yoga practice at a low cost. After a few days in this natural paradise, you'll feel refreshed and reenergized. You'll also be ready to go back home and start a healthier lifestyle.
It takes place in Rishikesh, the yoga capital of the world. In this wonderful place, surrounded by the majestic Himalayas and waters of the holy Ganges river, you won't feel the time pass by.
The yoga styles you'll practice on this retreat are Hatha, Ashtanga and Karma. During your stay here, you'll have yoga and meditation sessions, daily vegetarian meals and a tour to nearby beaches, temples, caves and yoga ashrams.
If you decided you're going on a yoga retreat in India here are 6 things you need to know before you go.
Image credit: Nirvana Yoga and Meditation
Cost per day: from US$20
Duration: 10 Days
Location: Rishikesh
Perhaps you feel like it's time to take a step forward into your practice and become a yoga instructor. If so, you're in the perfect place to do it, Rishikesh, the World Capital of Yoga, has everything you need to fully embrace the transformation you're about to begin.
And as you can see, it doesn't have to be expensive to become a certified teacher. Starting at $20 per day, you can embark on this journey as soon as you find the time! Neither it has to take a long time, with just 10 days you'll be good to go and start teaching yoga.
This training course is in Ashtanga Vinyasa Yoga, a form of yoga created by K. Pattabhi Jois during the 20th century and today practiced all across the world. It's promoted as a modern-day form of classical Indian yoga and it's the source of all Vinyasa, Power and flow styles of yoga.
On this 100-hour certified course you'll have a daily yoga practice, yoga philosophy classes, Pranayama and mantra chanting, Ashtanga theory and practice, meditation in open nature and two daily vegetarian meals. Overall, the yoga styles practiced during this retreat are Hatha, Iyengar, Kundalini, Vinyasa, Tantra and Ashtanga.
Other optional things to complement your trip are a sunrise trek to Kunjapuri temple, a special Ganga Puja ceremony, an excursion to Patna Waterfall, a tour to Temple Darshan, an Indian classical music concert, Meditation at Vashistha cave, and a visit to the 100-years old Beatles Ashram.
Here's more information about where to do your yoga teacher training in India.
Image credit: Rishikesh Valley Yoga Meditation Retreat
Cost per day: from US$36
Duration: 4 Days
Location: Rishikesh
Revitalize yourself on this amazing holiday full of yoga, meditation and Ayurveda in one of the top destinations in India: Rishikesh.
With everyday morning yoga sessions, an evening meditation class, one Ayurvedic and one Pranayama classes, and three vegetarian daily meals, you'll be able to set aside all stress and just relax. You'll also get one Ayurvedic massage to further achieve this.
Another perk of this retreat is that you'll have one private consultation to learn about your body constitution based on Ayurveda. Plus, you can do optional activities at an extra cost, such as trekking to caves and waterfalls, river rafting and sightseeing. Also, there are additional massages you can try like Abhyangam, Bandal and foot massage, to mention a few.
Want to have a deeper understanding of Ayurveda? Read the basics of Ayurveda and yoga in India.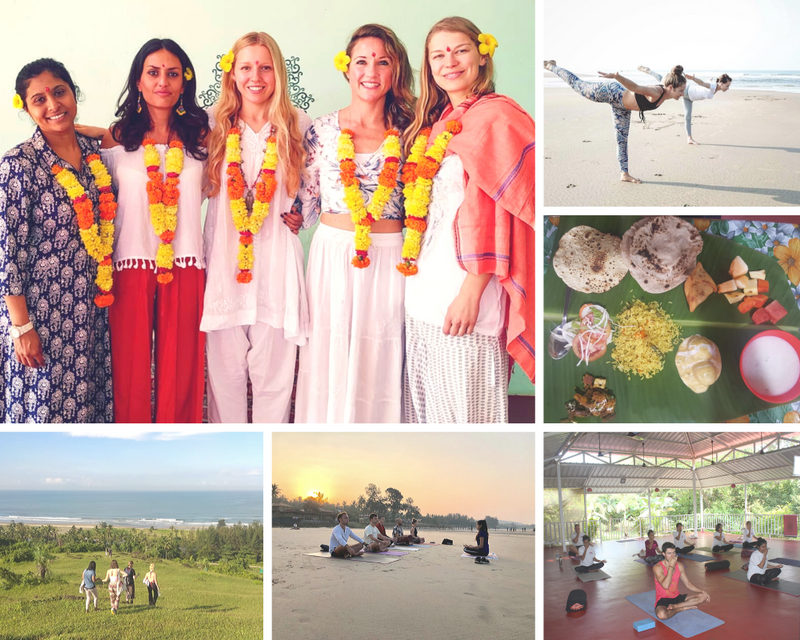 Image credit: Preksha Yoga Ashram
Cost per day: from US$22
Duration: 5 Days
Location: Mandrem
Mandrem is a coastal village in North Goa, a quiet and peaceful beach with white sand and clear water. This yoga retreat takes place in an ashram located in the middle of nature, surrounded by plants and trees. Every morning you can hear the chirping of birds waking you up to a day of yoga and relaxation.
Start your day with a morning Satsang and chanting mantras session. Satsang is a word to describe the sitting together with an enlightened person, who gives a speech and then answers questions. Follow the day with two or three yoga classes, asana and philosophy lessons, meditation, Pranayama sessions and nutritious meals.
During the free time, you can either sunbathe at the local beach or indulge yourself with an Ayurveda Massage or treatment (at extra cost). The ashram is set up to mimic India's traditional Gurukul system, an education system in ancient India where students live with the guru in the same house. Here, you'll get to learn from experienced teachers to guide you and support you around-the-clock.
---
Looking for more comfort during your yoga vacation? You can also find plenty of options on luxury yoga retreats in India!