Affordable Yoga Retreats in Bali for All Budgets
The go-to resource for planning your yoga retreats & holidays. Find all you need to know about destinations and take your practice to the next level.
Discover Yoga Retreats now
Many years ago, on the island of Java in Indonesia, a hermit named Maha Rsi Markandeya lived in the Raung Mountain. One day, he took 800 people along with him and traveled to what is today known as West Bali.
Unfortunately, once they arrived at this new place, more than half of his people were eaten by tigers and snakes. Therefore, he decided to go back to the Raung Mountain and planted five different types of metals as a ritual to protect him and his people, and as the foundation of power for Besakih.
Besakih is a temple on the slopes of Mount Agung. There, he established a Balinese Hindu ritual that consisted of worshipping Sang Hyang Widhi –the Supreme God of Indonesian Hinduism– three times a day and bringing offerings of water, fire and flowers, known as "bebali".
Since then, the Balinese have combined animism, ancestor worshipping, Hinduism and Buddhism to create a unique religion that has formed this extraordinary culture. Bali is the only Hindu island in Indonesia, and it has one of the largest concentrations of Hindu people outside of India. As a consequence, yoga has flourished immensely here!
READ MORE: Why is Bali a Top Destination for Yoga Retreats?
This amazing island is home to impressive religious sites, gorgeous beaches, stunning volcanoes, picturesque rice fields and sacred waterfalls, lovely handicrafts, incredibly rich culture and, of course, hundreds of yoga retreats.
The good news is that all this abundance doesn't translate into expensiveness. There are plenty of affordable yoga retreats in Bali for everyone to feel the magic of this island. Below, you'll find five of the very best budget options to embrace the Balinese culture and deepen your practice in this yoga paradise for as little as 14 USD per day.
Note: BookYogaRetreats offers a flexible cancellation policy. Should you not be able to travel as scheduled, we'd be happy to help you alter your booking with the same organizer or with a different organizer.
Image Credit: Baliuma Retreats
Cost per day: from US$35
Duration: 2 Days
Location: Tabanan
If you're going on vacation in Bali and would like to add some spirituality to your trip but you're short on time, this 2-days budget yoga retreat will suit you just fine! Here, you'll have the opportunity to learn and practice traditional Balinese Watukaru Yoga, one of the oldest styles of yoga.
This holiday takes place in Tabanan, a region that features some of the most beautiful natural scenery on the island. During this yoga retreat, you'll be able to relax and unwind through the practice of yoga, meditation, chakra opening and pranayama.
The retreat includes two yoga sessions per day, daily meditation and pranayama practices, one pampering spa treatment, Balinese Hindu Blessings, Balinese cultural activities in the village, a trip to a stunning local waterfall for purification and daily Balinese meals.
Image Credit: BALI GREEN RETREAT​
Cost per day: from US$42
Duration: 5 Days
Location: Tabanan
This yoga holiday takes place in the Sesandan village, an antique and spiritual site where yoga and meditation are seen by locals as self-healing ancient tools.
Here, at the heart of Bali's wild untouched nature, you can experience the real Bali and contemplate the famous Mount Batukaru, an extinct volcano that's considered a highly spiritual site – the second-highest peak in Bali.
The program of this retreat includes Balinese yoga and sitting meditation sessions, daily Balinese & Indonesian breakfast, lunch and dinner, plus fresh juices twice a day.
You'll be spending your afternoons in the Sesandan village community, where you'll engage in fun activities such as tours, rice terrace trekking, a trip to a waterfall, making traditional coconut oil, taking part in a Balinese cooking class and learning how to do the canang sari –one of the offerings to thank Sang Hyang Widhi.
READ MORE: Thailand vs. Bali: Where to Go for Your Next Yoga Retreat?
Image Credit: Santhika Retreat Center​
Cost per day: from US$52
Duration: 8 Days
Location: Buleleng
Located in North Bali, Buleleng is famous for the beauty of its waterfalls, historical attractions, and "Tari Teruna Jaya", a popular dance of dynamic movements, vivid costumes and peculiar facial expressions that was invented there.
Buleleng is also known for its big city Lovina, where you can watch dolphins in their natural habitat. Close by, Menjangan Island is home to the most amazing coral reefs. There are scuba diving sites for all levels for you to see the incredible marine life.
This yoga holiday includes daily breakfast and dinner, 6 meditation sessions, 5 Vinyasa yoga classes, one yoga lecture, daily Balinese cultural activities and one adventure tour to a dolphin's natural habitat, where you'll get to do snorkeling and canoeing.
Image Credit: Balitrees Retreats
Cost per day: from US$80
Duration: 2 Days
Location: Tabanan
Close to Mount Watukaru, this retreat takes place in a spiritual village, in the middle of the island. It offers the perfect opportunity to get away from the busy tourist parts of the island to unwind, destress, and rejuvenate.
The package includes twice-daily Balinese Watukaru yoga and meditation practices, Tai Chi and Martial Arts lessons, a pampering spa treatment, and two daily cultural excursions.
Each day, you'll enjoy three wholesome, abundant, and delicious vegetarian (or vegan) meals, made only with local and organic produce.
Other activities – that can be booked for an additional fee – include a visit to Mont Watukaru Temple, sunset horseriding on the beach or rice paddies, or surfing lessons.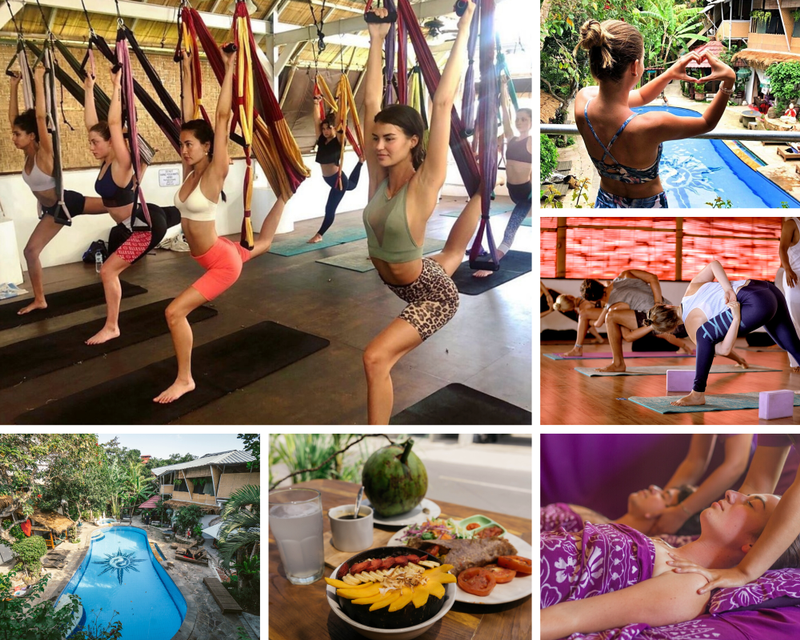 Image Credit: Serenity Eco-Guesthouse and Yoga​
Cost per day: from US$42
Duration: 4 Days
Location: Canggu
Located on the southern coast of Bali, Canggu is well-known for being a lively resort village surrounded by terraced rice fields and beaches. Some of its most famous shores are Berawa, Echo Beach, and Batu Bolong.
There are many high-end shops and restaurants, thrilling nightlife, and some spectacular sunsets that you can contemplate either at the beach or at Tanah Lot – a Hindu temple that sits on a rocky outcrop.
Set in the harmonious surroundings of Canggu and only a five-minute walk from the beach, this retreat offers tranquility for everyone. The 3 yoga class pass offers up to 10 daily classes to choose from, including Ashtanga, Aerial, Vinyasa, Restorative, and Power.
*Cover image credit: H20 Yoga and Meditation​
*All prices are valid at the time of publication and are not guaranteed. They are subject to change without notice.
---
Looking forward to becoming a yoga instructor? There are plenty of great options for a yoga teacher training in Bali.