Affordable Yoga Retreats in Australia and New Zealand
The go-to resource for planning your yoga retreats & holidays. Find all you need to know about destinations and take your practice to the next level.
Discover Yoga Retreats now
Australia and New Zealand are two of the most fascinating countries in the world. Located in the Pacific Ocean, each of them offers unique treats for their visitors, especially when it comes to yogis.
From active volcanoes to stunning fjords, impressive caves, green valleys and never-ending white sand beaches, New Zealand is full of great contrasts and diversity. What better place to do a sun salutation than the place where the sun rises first?
The Māori people, who have inhabited the region for the past 1,000 years, have deeply influenced the culture with their traditions and lifestyle. But lately, they've also gotten into yoga and there are even some of them who actively encourage their fellow Māoris to try it out and benefit from all its positive effects.
Likewise, known as 'the land Down Under', Australia is a warm and sunny country full of natural wonders and with an abundance of wide-open spaces. It has the largest coral reef in the world and its clear skies allow you to see over 3,000 stars.
About 50 years ago, Australians started to do yoga. Little by little, it has gained popularity and today it can be considered a mainstream practice. According to Roy Morgan's data, nowadays, one in every 10 Australians do yoga on a regular basis, making it more popular than cricket, tennis, soccer and golf.
The good news is that all this beauty doesn´t have to cost an arm and leg, as there are plenty of affordable yoga retreats in Australia and New Zealand. Here are some of the best for you!
Note: BookYogaRetreats offers a flexible cancellation policy. Should you not be able to travel as scheduled, we'd be happy to help you alter your booking with the same organizer or with a different organizer.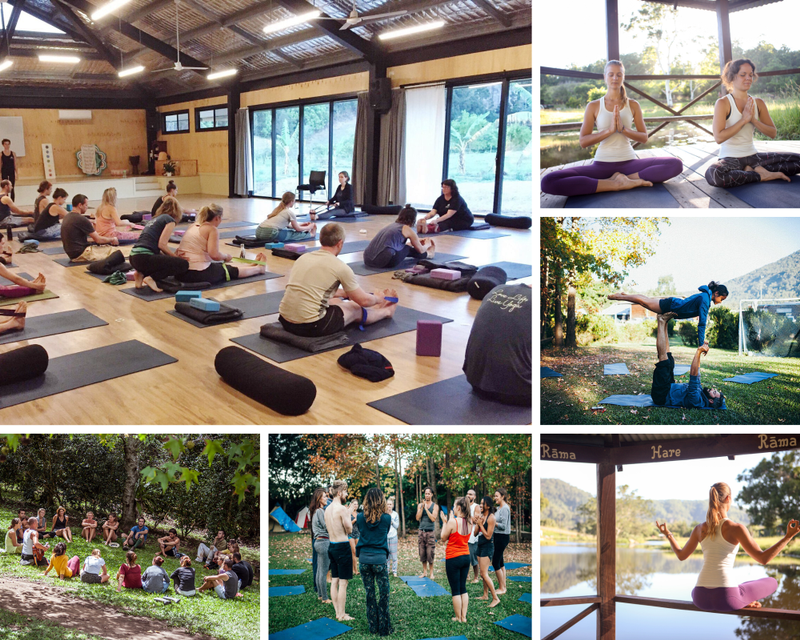 Image credit: Krishna Village Eco Yoga Community
Cost per day: from AUD 40
Duration: 8 Days
Location: Eungella
Just 10 minutes away from Mount Warning National Park, this yoga holiday takes place in an eco-yoga community. With daily yoga classes, philosophy sessions and 3 delicious vegetarian meals a day, this retreat will provide you with everything you need to unwind and relax.
As part of the package, you'll get a Bhagavad Gita class, Mangala Arati meditation at the Hare Krishna temple and a life coaching session.
You can use your free time to explore the 1,000-acre property, go to the beach, swim in the river, meditate by the lake, or hike through Mount Warning National Park –a World Heritage rainforest of which its summit track is considered a sacred place to the Bundjalung People.
READ MORE: 20 Affordable Yoga Retreats for Any Budget All Yogis Should Take Advantage Of
Image credit: Stoke Beach House
Cost per day: from AUD 97
Duration: 8 Days
Location: Manly
Manly is one of Australia's most renowned beaches, famous for being the place where the world's first surfing contest took place. This iconic beach is also home to one of the most exciting affordable yoga retreats in Australia.
Located only 100 meters (328 feet) away from the beach, this yoga retreat promises to be a one-of-a-kind experience, with daily morning Vinyasa Yoga, a 1.5-hour daily surf lesson at Manly Beach and daily healthy breakfast.
During your free time, you can go to Manly Wharf, a heritage-listed passenger terminal that's also a recreational area offering an in-house cinema, a bar with daily free power hour, weekly harbor cruises and guest bikes. It's also the perfect place to unwind while overlooking the crystal clear South Pacific Ocean.
Image credit: Prema Shanti
Cost per day: from AUD 93
Duration: 3 Days
Location: Cape Tribulation
Situated in the heart of the world's oldest rainforest, this yoga program offers you daily morning meditation practice, daily evening yoga classes and 2-night boutique room accommodation.
You can use your free time to plunge into outdoor swimming holes, visit Thornton Beach, or explore the unspoiled Daintree Rainforest. A visit here is an exceptional experience for wild nature lovers. It has such unique biodiversity that you won't find anywhere else, just an incredible place to strike your favorite asanas and relax for a weekend at a low cost.
Image credit: Mojosurf Australia
Cost per day: from AUD 120
Duration: 4 Days
Location: Coffs Harbour
Surrounded by mountains on one side and the ocean on the other, Coffs Harbour is famous for its multiple resorts, warm climate and banana plantations. It is a coastal fishing town home to one of Australia's first big things, the "Big Banana" amusement park.
This vibrant place also offers some of the best affordable yoga retreats in Australia. Here you can immerse yourself in the surf lifestyle with daily surfing lessons provided by fully qualified instructors, daily outdoor yoga sessions and delicious buffet-style breakfast, lunch and dinner.
During your free time, you can go to the beach or book additional activities such as kayaking, a kangaroo trek, surf rafting, table tennis and pool table.
Image credit: Surf N Stay New Zealand
Cost per day: from AUD 89
Duration: 7 Days
Location: Whangamata
Voted as the best beach in New Zealand by NZ Herald readers in 2018, Whangamata is famous for its unique combination of rainforest and beach. Here you can find some of the most iconic surf breaks in the country.
This retreat offers a package that includes 5 yoga sessions, 5 group surf lessons for all levels, 6 nights' dorm accommodation, daily continental breakfast and unlimited free Wi-Fi. A great option if you want to start surfing and adding a new dimension to your yoga practice.
During your spare time, you can visit the Coromandel Forest Park, where you can find all kinds of outdoor experiences, from short walks to mountain bike trails and old gold mining sites.
Image credit: WHY Retreat
Cost per day: from AUD 165
Duration: 6 Days
Location: Whangarei Heads
Whangarei Heads is a fabulous holiday destination located in New Zealand's northernmost region. With a nice subtropical climate, beautiful white sandy beaches and volcanic peaks, this place is a paradise for nature lovers.
You'll find plenty of time to reconnect with nature and relax during this yoga holiday. The program includes daily yoga classes, daily meditation sessions, hiking excursions in nature and all home-cooked delicious meals.
Last piece of advice
If you're visiting from another country, just remember that the seasons in Australia and New Zealand are different than in other parts of the world. Here's a quick guide:
Spring: September, October and November.
Summer: December, January and February.
Autumn: March, April and May.
Winter: June, July and August.
Now you know it's possible! Just save a little money and embark on an affordable yoga holiday in Australia or New Zealand!
---
In case you're new to the practice, you can find fantastic yoga retreats for beginners both in Australia and New Zealand.