Affordable Yoga Retreats in the UK & Ireland
The go-to resource for planning your yoga retreats & holidays. Find all you need to know about destinations and take your practice to the next level.
Discover Yoga Retreats now
From the green cliffs of Cornwall to the historical landmarks in Devon, the stunning views of Yorkshire and the Ireland fairy rings, there are tons of places in the UK for an unforgettable yoga holiday.
The best part? There's no need to wipe out your savings to embrace the good vibes of these lands. There are tons of affordable yoga retreats in the UK and Ireland where you can strike your favorite asanas surrounded by breathtaking scenarios full of magic and history.
Need some advice on which retreat to choose? Check out these recommendations:
Note: BookYogaRetreats offers a flexible cancellation policy. Should you not be able to travel as scheduled, we'd be happy to help you alter your booking with the same organizer or with a different organizer.
Cost per day: from £80
Duration: 2 Days
Location: Cornwall
Full of marvelous landscapes and bordered by the Celtic Sea (which gives the area over 300 unspoiled beaches), Cornwall is famous for its delicious pastries, history of mining, steam railways and fishing… Yup, you won't find a better place to eat fish 'n chips!
With just a weekend here, you'll be able to unwind and re-energize; just imagine bringing your best poses while feeling the pale sand between your toes.
Moreover, combining yoga with surfing will help you improve your yoga skills, as the latter teaches how to overcome fear, be patient and fully embrace the moment. You'll see how, after a few surfing sessions, you'll experience a whole new level of execution during your yoga practice.
If you've never surfed before, don't worry because this program is perfect for those who have never caught a wave. Meaning that you'll be guided by professional instructors that will make surfing a lot easier for you. But also, if you're an expert, you'll be able to enjoy the nice waves and keep improving your game.
The program includes surf lessons, yoga sessions, surfboard and wetsuit rental, breakfast, tea and coffee. You'll have pre and post-surfing Hatha yoga sessions. And if you're not the camping type of person, don't worry, this adventure is actually more like a glamping experience.
Cost per day: from £87
Duration: 3 Days
Location: York
This retreat takes place just four miles (6km) from York's center, nestled in three acres of private farmland in England's Yorkshire countryside. It's a one-of-a-kind weekend of meditation, healthy plant-based meals, workshops, and tons of yoga with Vinyasa, Yin, Nidra and Ashtanga styles.
There's no need to be an advanced yogi as all skill levels are welcome to join this restoring and nourishing yoga retreat. After a few days of cleansing your body from toxins through superfoods, smoothies, detox juices and freshly prepared meals, you'll be ready to meet a healthier you!
During this yoga holiday, you'll also be provided with four yoga workshops, two Pranayama and Vinyasa Yoga classes and two Yoga Nidra and meditation sessions. Plus, you'll have access to the lodge's facilities, herbal teas, coffee and soft drinks.
>> READ MORE: Your guide to UK's best yoga destinations.
Cost per day: from £84
Duration: 3 Days
Location: Nottingham, England
This yoga retreat takes place in the heart of Nottingham City in an urban cottage with a beautiful courtyard entrance of architect Fothergill. You'll stay in a private room during this retreat and, even though only breakfast is included in this package, there are plenty of nice restaurants nearby for lunch and dinner.
This weekend break gives you the opportunity to have a truly mindful experience with daily group chanting sessions, meditation and one-on-one personal yoga classes. The program is well suited for beginners and intermediates and the yoga style practiced is Hatha.
>> READ MORE: 10 weekend yoga breaks in the UK.
Cost per day: from £98
Duration: 4 Days
Location: Country Wexford, Ireland
Just 30 minutes from the town of Wexford, nestled in the majestic green hills of the Irish countryside, this retreat offers you the opportunity to explore this fairylike country even if you're on a budget.
Places like the Johnstown Castle and the quaint Irish town of Wexford, famous for its medieval lanes, 12th-century constructions, the outdoor Irish National Heritage Park, a modern National Opera House and the rolling dunes of Curracloe Beach are all accessible.
If you're looking for the utmost relaxation, this Tibetan-style retreat will suit you well. During the four days, you'll get daily nourishing food, daily yoga classes, a Tibetan bowl workshop, some other workshops on yoga and meditation, an inspirational film show and a unique quantum experience.
In addition, spa treatments like a relaxing Swedish massage, Tibetan facial harmony therapy, Tibetan head massage, Bowen therapy, Detox acupuncture and Gong music healing (just to mention a few) are available at an extra cost to complement your wellness experience.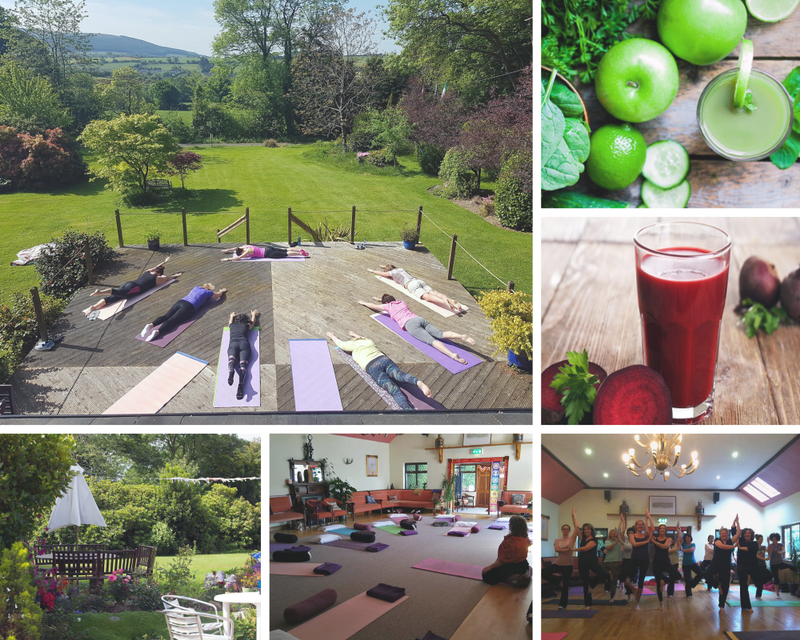 Cost per day: from £102
Duration: 3 Days
Location: Country Wexford, Ireland
This juice-cleanse detox and yoga retreat takes place in an award-winning wellness center located in the coastal county of Wexford in Southeast Ireland. The serene setting will offer you a wide range of relaxing, rejuvenating and healing activities to give yourself a well-deserved rest.
The retreat includes 3 days of juice cleanse, 1 yoga class, daily smoothies and soups, juices and supplements, daily morning Kangen water with lemon, and plenty of free time to practice meditation, join the inspirational films show or book a personal spa session to boost your wellbeing.
Throughout the cleansing process, you'll strengthen your immune system, rejuvenate your skin, increase your energy and lose weight. Since detox is not only physical but also emotional, it's recommended to do it in a safe and supportive environment like the one you'll find on this retreat.
---
Would rather have more of a high-end experience? Check out these luxury yoga retreats in the United Kingdom.