10 Thrilling Adventure Yoga Retreats
The go-to resource for planning your yoga retreats & holidays. Find all you need to know about destinations and take your practice to the next level.
Discover Yoga Retreats now
If you're anything like me, then you probably have trouble staying in one place for too long. As a yogi with itchy feet, I often find myself struggling to find a balance between the static and dynamic movements in my asanas and in my everyday life.
Luckily, a yoga retreat doesn't have to be all about the poses. An adventure yoga retreat is a fun-filled holiday that will teach you to listen to your body and get in touch with your inner self. After all, is there any better way to keep track of our progress than by pushing your limits, both mentally and physically?
Not sure where to start? Check out our list of highly-acclaimed adventure yoga retreats located all over the globe:
Note: BookYogaRetreats offers a flexible cancellation policy. Should you not be able to travel as scheduled, we'd be happy to help you to alter your booking with the same organizer or with a different organizer.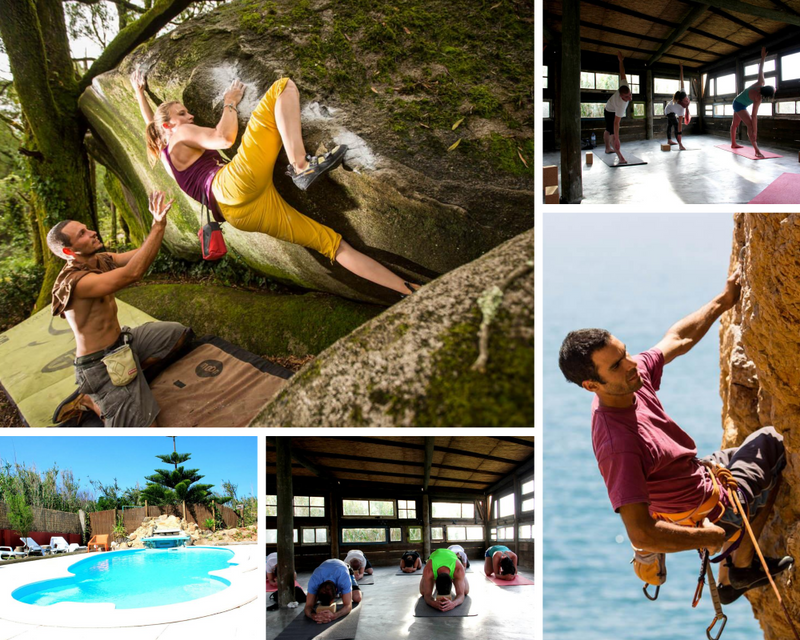 Price: From US$634 per person for 5 days/4 nights
Availability: From March till October
Join a community of outdoor enthusiasts in the mystical forests and hills of Portugal's Sintra-Cascais Natural Park, near the world-class surfing destination of Praia Grande. The surroundings provide the perfect backdrop for yoga and exciting outdoor activities.
Embark on this active holiday in Portugal and enjoy daily climbing courses in the morning and restorative yoga classes in the afternoon. Within a 30-mile (50 km) radius from your lodging, there are 40 climbing spots to explore. Check them out with the help of the certified instructors!
The retreat is excellent for beginner climbers taking their firsts steps outside the gym, as well as for those who simply want to improve their technique and spice it up with yoga and meditation.
Besides climbing, there are plenty of optional outdoor activities to choose from – surfing, horseback riding, mountain biking, hiking, stand-up paddleboarding, and a one-day trip to Lisbon.
» READ MORE: Yoga Retreats in Portugal for Small Budgets
Price: From US$1,091 per person for 8 days/7 nights
Availability: From December till April
Featured by The Guardian as one of the world's best retreats for mind, body, and spirit holidays, the MoaAlm Mountain Retreat is located in the heart of the Hohe Tauern National Park, 1,800 meters (5,900 ft) above sea level.
MoaAlm Mountain Retreat respects the fact that each person is unique, which is why the daily schedule is flexible. A typical day starts with a Vinyasa yoga session, followed by breakfast and then a snowshoeing trip up to Lesach Riegel Hut, where you can have a picnic while enjoying panoramic views of Grossglockner, the highest mountain in Austria. Back at MoaAlm, over dinner or a cup of tea, you can plan the next day's adventures.
The package includes five guided hikes or snowshoeing trips. Depending on the snow conditions, cross-country skiing excursions can be included in the trip as well.
Price: From US $940 per person for 5 days/4 nights
Availability: All year round
Connect, challenge yourself, and welcome change with three nature-based activities of your choosing!
To reconnect with nature, choose between a guided hike or a paddleboarding tour through the mangrove forests.
To challenge yourself, choose between horseback riding on trails and beaches, a mountain biking tour of the forests and beaches of Playa Negra, or a guided snorkeling tour.
To change, step out of your comfort zone through a zipline tour through the canopies of Guanacaste or a surf lesson on the gorgeous waves of Playa Negra. Just choose any 3 activities you like.
The package includes daily yoga sessions, as well as daily breakfast and dinner.
» READ MORE: The Ultimate Guide to Costa Rica's Best Yoga Destinations
Price: From US$1,341 per person for 7 days/6 nights
Availability: May till August
Great for couples where one is into yoga and the other is into outdoor sports, this adventure and yoga retreat in Croatia will teach you about nature's five elements in a unique way. Located between the historical center of the picturesque city of Rovinj and the scenic beaches of the Istria Peninsula, the Five Elements Guesthouse will be your home away from home.
Learn about the five elements of your being with daily morning yoga classes and meditation. Each day, extend your knowledge by getting closer to each element.
On earth day, there will be hiking tours and cave explorations. Air day will feature windsurfing. Fire day will bring you biking tours and campfire gatherings. Water day will take you on a kayaking tour of the Rovinj islands. Lastly, yoga and meditation will be the main focus on spirit day.
Price: From US$ 299​ per person for 3 days/2 nights
Availability: Select dates in April, June & September
Held in El Gastor, Cádiz (Spain), this retreat offers you the chance to combine yoga with some lovely hikes in Parque Natural of the Sierra de Grazalema.
Each day, after you've attended meditation and yoga classes, you may choose whether you explore on your own, go on a hiking tour, or attend a workshop. Upon returning to the accommodation, you'll join two more yoga classes in the afternoon.
You'll be staying at a retreat center, tucked away in the mountains, yet easily accessible from Malaga and Sevilla Airports, as well as Ronda train station.
The guided hiking tours take you on the paths around the mountain up to the breath-taking view of the whitewashed villages. You will also explore Setenil de las Bodegas, one of the splendid villages, featuring winding streets brimming with stores selling local produce.
Or you can hike to the Giant Dolmen, dating from the Neolithic period.
Another trek takes you to Zahara de la Sierra, famous for its castle topped peak in the park's northern reaches.
This retreat is suitable for those who want to be immersed in nature but aren't looking for strenuous days on the hiking trails.

Price: From US$ 637 per person for 6 days/5 nights
Availability: All year round
What do yoga and surfing have in common? To start with, they both demand balance, focus, determination, and continuous movement.
Nusa Lembongan, a small island southeast of Bali, is less developed and less crowded, which makes it an ideal destination for a fun-filled yet relaxed active holiday. Stay only a few steps away from the beach and enjoy three surf lessons for beginners and intermediate surfers with experienced instructors that will take you to the best waves for your level.
The active retreat also includes three yoga classes featuring various yoga styles, one introductory freediving course, one snorkeling with manta rays trip, and daily breakfast and lunch.
» READ MORE: Why Is Bali a Top Destination for Yoga Retreats?
Price: From US$448 per person for 8 days/7 nights
Availability: October till April
Enjoy daily surf lessons, daily yoga sessions, and full-board meals on this all-inclusive surf and yoga retreat in Morocco.
Stay in an oceanside surf and yoga house in Taghazout, a small and charming fishing village turned renowned surf town. The house has a panoramic rooftop terrace, a large yoga deck, as well as chill out and dining areas.
The retreat offers yoga classes and surf lessons for all levels. If you've never surfed before, the instructors will take you to the best surf spots for beginners near Taghazout where you will learn the basics and catch your first waves. If you already have experience and would like to improve, the instructors will develop a program for your needs.
Taghazout offers the perfect setting to learn to surf or improve your surfing, thanks to the abundance of beginner-friendly waves and challenging point breaks, all within easy reach.
On a typical day, you'll start with an energizing Vinyasa flow yoga class in the morning, followed by breakfast. Between 10 a.m and 4 p.m., you'll have surf lessons and practice. After that, you'll have some free time for yourself. In the evening, at 6:30 p.m. you'll join a restorative Hatha or Yin yoga class. Dinner is at 8 p.m.
The retreat also includes a visit to the local market in Agadir and a trip to Paradise Valley, as well as airport and bus transfer from Agadir.
» READ MORE: Your Guide to Surf & Yoga Retreats in Morocco
Price: From US$824 per person for 7 days/6 nights
Availability: From May till September
Combine hiking and yoga for a unique experience in Western Norway. During this active retreat, you will discover some of the country's most stunning natural sights.
Guided hiking tours will take you to Jendemsfjellet Mountain, Trollkirka Caves (or Troll Church, a series of three grottos with underwater streams and waterfalls), Trollveggen (or the Troll Wall, Europe's tallest vertical rock face), Atlanterhavsveien (The Atlantic Road), and other attractions.
Kick start each day with Pranayama and a morning yoga class. After a day spent in the mountains, restore balance in your body and mind through mindful and restorative Yin yoga. There will also be guided meditation sessions.
The package includes a raw chocolate class, as well as daily breakfast and lunch, featuring fresh and delicious vegetarian, vegan, and seafood dishes.
Price: From US$ 588 per person for 4 days/3 nights
Availability: Select dates in February & March
Find a deep connection with nature and yourself thanks to the sacred energy vortexes and temples at Machu Picchu.
During this active spiritual holiday, you will hike the short Inca Trail, visiting the Inca jungle and its waterfalls, as well as the therapeutic hot springs in Santa Theresa. You'll also get to spend an entire day among the ruins at Machu Picchu.
Join a journey of self-discovery as you hike to the sacred temples of Machu Picchu, meditating, and doing yoga along the way, healing your body, mind, and spirit.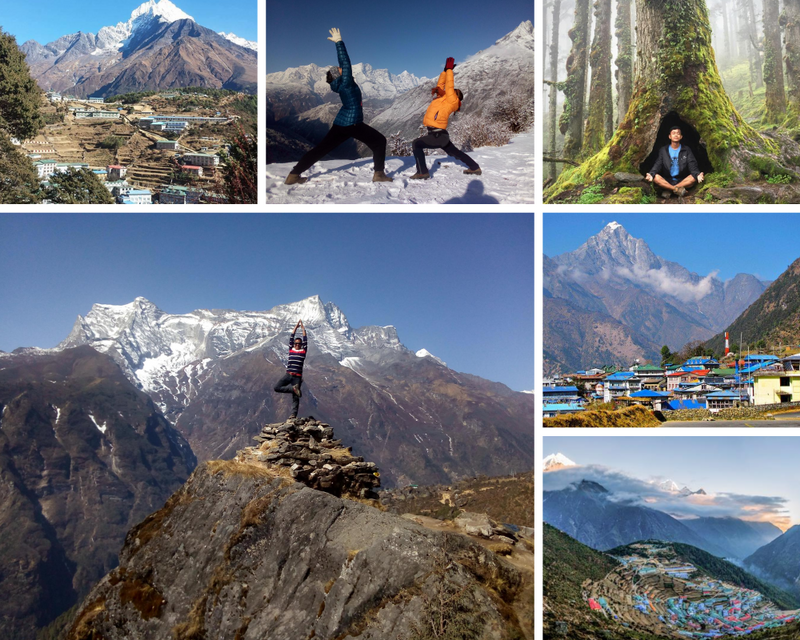 Price: From US$ 1,197 per person for 12 days/11 nights
Availability: All year round
Who hasn't heard the stories, seen the movies, read the books, and dreamed about reaching Himalaya's dizzying heights themselves?
Combine a panoramic trek at the foothills of the mighty Everest with yoga, meditation, breathing exercises, and cultural visits to the Sherpa communities. You will enjoy close-up views of the Himalayas while passing through the lush valleys and terraced hills of the Sagarmatha National Park, crossing suspension bridges, visiting culturally-rich villages, remote settlements, and the ornate monasteries of the Khumbu Region.
This active holiday in Nepal includes seven days of trekking, in which you will reach a maximum elevation of 3,850 meters (12,632 feet). It is a spiritual journey and a great opportunity to deepen your yoga practice, thanks to the daily Hatha yoga classes. Also included in the package are guided sightseeing tours of Kathmandu and all daily meals
Final words
Yoga can feel pretty static at times, and there's nothing like an adrenaline rush in the great outdoors to restore the balance. Yoga itself is an endless adventure of self-discovery, so make sure you apply its teachings in every aspect of your life.
*All prices are valid at the time of publication and are not guaranteed. They are subject to change without notice.
---
Ready to embark on a fun-filled active holiday in the Old Continent? Choose your next adventure yoga retreat in Europe. It can be something you're crazy about or something completely new. Who knows, you might just discover a new passion!