2020 Top 10 Yoga Destinations
The go-to resource for planning your yoga retreats & holidays. Find all you need to know about destinations and take your practice to the next level.
Discover Yoga Retreats now
Looking for an amazing yoga holiday to start the new decade on a high note? Excellent news! We've released our yearly ranking of the 10 best destinations for yoga in 2020.
This year's list has plenty of options for all tastes. From picturesque cities to heavenly beaches and breathtaking mountains, here are the most popular places to take your practice to new horizons and relax and pamper yourself on a yoga retreat.
Note: BookYogaRetreats offers a flexible cancellation policy. Should you not be able to travel as scheduled, we'd be happy to help you to alter your booking with the same organizer or with a different organizer.
Image credit: BlueWander
After dropping to second in 2019, India claims back the top spot on the list for 2020. Widely regarded as THE yoga destination par excellence, it's no secret that the cradle of yoga is the most natural choice for an authentic retreat.
India offers a mystical atmosphere that'll allow you to deeply connect with yourself and improve your practice with the guidance of the greatest gurus and renowned yoga instructors. And if you're already a seasoned practitioner, you won't find a better place to become a yoga teacher. Indeed, with hundreds of courses across its territory, the decision just boils down to where to do your yoga teacher training in India.
The most popular time for yoga travel is between November and December, but there are plenty of options throughout the year.
Most popular places for yoga
---
Did you know that Rishikesh is considered the yoga capital of the world? See why you should do your yoga teacher training here.
---
Spain might have lost the top spot from last year, but its colorful culture, delicious dishes and paradisiacal islands still place it among the elite yoga destinations on the planet.
This country was among the very first in Europe to open the doors to yoga gurus back in the first half of the 20th century. And almost 70 years later, yoga is well regarded by many Spaniards as a nice way to achieve wellness and mindfulness.
It is also well-known that Spain is blessed with nice weather year-round, which makes it a perfect place for yoga travel during all four seasons. Nevertheless, the favorite months for yogis are March, July and August.
Most popular places for yoga
---
Check out our Spain yoga guide and learn more about what makes this colorful country special for yoga.
---
In third place, Indonesia keeps its place on the podium. Also known as the Island of the Gods, perhaps because of its undeniable magical and spiritual vibe, Bali is the flagship of yoga in Southeast Asia.
Due to its breathtaking scenery, healthy lifestyle, renowned gurus and all sorts of yoga styles, few places on earth are as inviting to do yoga than this island. Bali is actually one of the most sought-after destinations to become an instructor. Along with Rishikesh, it is arguably on top of the list since it holds an enormous community of yogis who have been attracted by its mindful-healthy lifestyle.
The dry season is the most popular time to visit Indonesia. Generally speaking, it takes place during the months of March to July.
Most popular places for yoga
---
Read our post to find out why Bali is a top destination for yoga.
---
There's a special and indescribable feeling that you get as soon as you set foot in Thailand. A feeling that fills your body with peace and joy at the same time.
This mainly Buddhist country has a vibrant culture, the kindest people on earth, tons of festivals, majestic temples, quaint villages, white-sand beaches, delicious and exotic food and so on. Besides, it's among the most affordable places in the world to travel. No wonder the Land of Smiles managed to climb a position in our ranking this year!
If you choose this jewel in the southeast of Asia to be the next stop for your yoga vacation, November and January are the two most popular months for yogis.
Most popular places for yoga
---
Maybe you want to book your retreat right away, but if you're able to resist the urge for 5 minutes, make sure to check out our Thailand yoga guide so you can make the most out of your trip.
Portugal, the second European country on the list, is easily number one when it comes to yoga and surf. With incredible beaches, great waves and a chilled culture, this land is home to the most spectacular surf and yoga retreats in the world.
But this paradise isn't only about water sports. From cobblestone streets, impressive castles, delicious wines, exquisite food and nice people, it has everything you can expect for a pleasant yoga vacation.
Additionally, its warm weather makes it a good place to go at any time of the year. That said, if you want to have an abundance of options for yoga holidays, July and August are the most popular months to go.
Most popular places for yoga
---
Prepare for your trip and give a read to our Portugal yoga guide!
---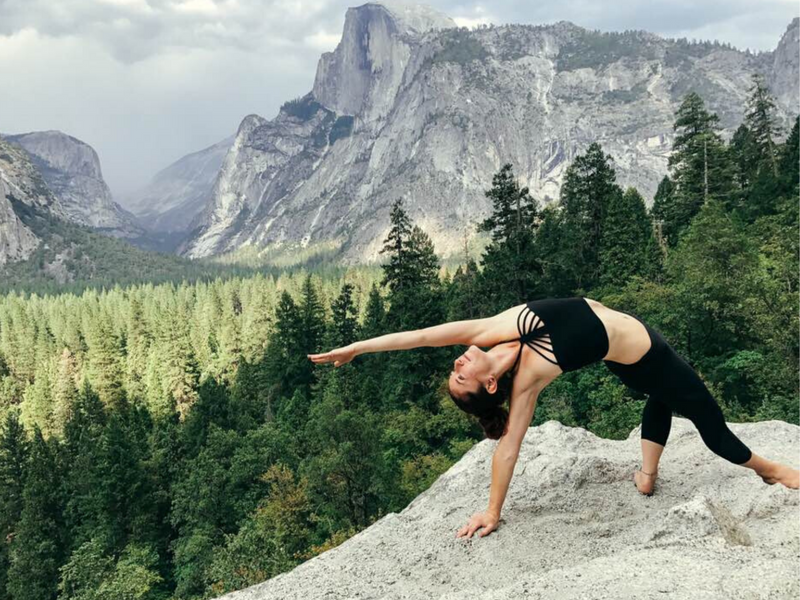 As the place where modern yoga evolved in the 19th century, the USA keeps contributing to the expansion of the community every year. It's said that one out of three Americans has tried yoga at least once, which has brought thousands of retreats across its 50 states.
California and Hawaii might be the most popular places, but being such a big country, there are tons of other spots where you can find all sorts of yoga vacations of all kinds of styles. From detox and Ayurveda to meditation and surf, this country has everything you need for an unforgettable yoga experience.
If you want to become a yoga teacher in the USA, California is where you want to be since many world-famous gurus have come to the Golden State to expand the practice of yoga.
April and August are the two most popular months for yoga travel in the US, but being such a big country, there are retreats and teacher training courses at any time of the year from California to New York.
---
Want to know more about the history of yoga in this country? Check out this guide to yoga teacher training in the USA
---
Most popular places for yoga
A land with rich culture, tons of tourism and hundreds of yoga holidays, Italy is 7th on this list. As you might have guessed, Italy has so many attractions that yogis enjoy traveling to this country not just for the amazing retreats it offers but also for the eye-popping architecture, exquisite food and historical sites that can be found at every corner.
Wouldn't it be nice to live for a month or so in Italy? A yoga teacher training course could be the perfect excuse! There are a few options to become an instructor in Italy that will allow you to live this experience and take your practice to the next level.
So, if you decide to have an adventure in this bel paese in Southern Europe, consider that the most popular months for yogis are May and July, when the weather is nice to explore the country and there are more options to sign up for a yoga teacher training course or a shorter retreat.
Most popular places for yoga
---
Want to learn more about the Italian charm? Check out our Italy yoga guide!
---
For the second year in a row, the United Kingdom makes it on our list of the top 10 yoga destinations. Maybe yogis are starting to notice the unique atmosphere that makes it an exceptional place for embracing mindfulness and meditation.
The UK offers plenty of options for all tastes. You can choose any scenery you want for your practice, from the green cliffs of Cornwall and the charming landscapes of Kent, to the wild beauty of Scotland, the high mountains in the Lake District and the rugged coastline of Wales.
If you don't live in Britain, just keep in mind that August is the best month for yoga travel here.
Most popular places for yoga
---
Put down your cup of tea for a minute and be sure to check out our UK yoga guide!
---
Costa Rica is one of the most biodiverse countries in the world. With two oceans, volcanos and rainforests, plus wonderful sunsets, pristine beaches and colorful toucans flying around, it's tough not to feel as part of nature while visiting. That's why many Americans and people from all over the globe come to this heavenly place for a yoga retreat or yoga teacher training.
In addition, Costa Ricans are happy, grateful and optimistic people that embrace the little details of life in a way any yogi could benefit from. They call it Pura Vida, a mindful living philosophy that transmits inner harmony that will help you take your yoga to a whole new level.
Due to its tropical weather and lack of winter, January is the most popular month for a yogi to visit this ever-friendly place.
Most popular places for yoga
---
Get ready for 'la Pura Vida' and check out our Costa Rica yoga guide!
---
After being left out of this list in 2019, this aromatic country returns to the 2020 top yoga destinations. Thanks to its unique landscapes and captivating cities, lots of amazing yoga retreats can be found all across Morocco. And like Portugal, it's a fantastic place to combine yoga and surf.
Just imagine how awesome would be to do yoga in the middle of the Sahara Desert or while contemplating the Atlas Mountains. Or if you consider yourself more of a beach person, there are plenty of fine retreats along the Mediterranean coast as well.
The months with most yoga vacations are October and January, when the heat is not as bad and there aren't as many tourists.
Most popular places for yoga
---
Want to know more about this exotic destination? Give our Morocco yoga guide a read!
---
*Check out last year's ranking and see how yoga travel has changed over the past 12 months!
---
Looking for a short yoga break? Go on a weekend yoga retreat in any of these top destinations!